Dairy Free Menu

20 May 2011
A dairy free menu is meant for people who are allergic to cow's milk and products made from it like cheese, ice cream, etc. The protein present in milk, casein, causes an allergic reaction in their body leading to symptoms like abdominal cramps, gas, bloating diarrhea. Hence they opt for a diet which is free of dairy products made from cow's milk and even goat's milk.
If any of your family members is suffering from dairy allergy or you have guests coming in having such diet prohibition, then planning a dairy free menu can be a bit tricky.  Because while planning a dairy free menu you will need to take care to avoid even the slightest use of any products made from cow or goat's milk.
However adhering to the specific guidelines for dairy free menu narrated here, will surely reduce your hassles and confusion in dairy free menu planning.
FOODS ALLOWED 
FOODS RESTRICTED
Vegetables 
Milk and milk products like yogurt
Fruits
Butter/cheese
 Nuts
 Cottage cheese
Soy
Buttermilk 
Eggs 
Cream soups, creamy dressings, breads and other items with milk as an ingredient
This list should give you a fair idea of what to include and what to leave out while planning a dairy free menu.
Some dairy free menu ideas:--
Homemade Taco Chips
Homemade taco chips are made from tortillas, vegetable oil and salt.
This starter is light and can be served sstandalone.
Curried Sunflower Seeds
Curried sunflower seeds also make for an interesting appetizer. Sunflower seeds seasoned with garlic salt, curry powder make for a tasty dish.
Hot & Sour Vegetable Soup
You can begin the dairy free menu with a Hot & Sour Vegetable Soup.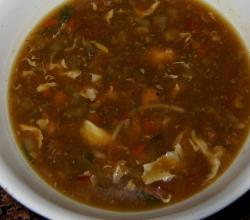 This soup made from vegetables is fulfilling and makes for a good starter.
Watercress Soup
Watercress Soup can also make for a good appetizer. Prepared from watercress, lean beans and chicken stock, this preparation provides an excellent start to the meal.
Split Chicken Breasts with Baby Broccoli
For the main course, you can add Split Chicken Breasts with Baby Broccoli to your dairy free menu.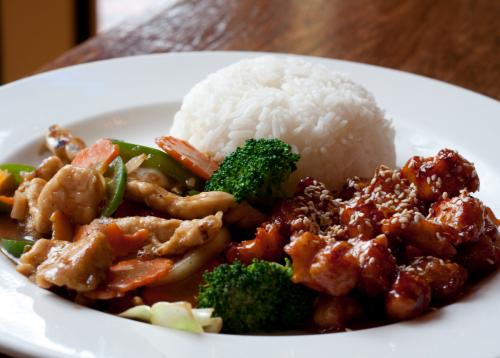 This dish of grilled chicken breasts is flavored with lemon, shallots, garlic, salt, pepper and is absolutely delicious!
Fish Balls In Curry Sauce
Fish Balls in Curry Sauce served with rice or bread can add variety to your dairy free menu.
Minced fish balls in gravy is a dish which will earn you praises.
Holiday Fruit Pudding
Holiday Fruit Pudding is a good choice for dessert. It is made without milk and has dried apples, dried pears, dried peaches along with other ingredients like red wine and is a delight to savor.
Angel Pie
This sweet dish is easy to make one and has whipped cream as garnishing suggestion which you will have to leave out if you do not want to include it in the dairy free menu.
Angel Pie is made from crushed pineapple, sugar, water and is absolutely heavenly.
You can improvise on these dairy free menu ideas and devise a dairy free menu suiting to the tastes of your family or guests.
Image credit: ifood.tv 
Dairy Free Menu