Fig Menu

20 May 2011
A fig menu would call for really stepping out of that comfort zone of cooking your day to day dishes and creating pure and simple harmony in the kitchen. Did you know that figs are considered an aphrodisiac? This sexy, fleshy fruit would be ideal to use to create a menu for your sweetheart. It won't be just his palate that you will be stimulating. Here are some exciting fig menu ideas.
Yes, the recipe is actually as easy as the dish sounds. Even a novice in the kitchen should be able to prepare this delicious appetizer without any trouble. All you need are some slices of ham and figs at home. You simply roll a fig in a slice of ham and arrange on a large plate. It tastes so very good, it almost seems like a crime how something so easy to make can taste so delicious.
Grilled Pork Chops with Marsala Fig Sauce
Figs and Marsala wine along with thyme make a fantastic sauce. Serve the grilled pork chops with figs on top and a spinach and mushroom salad alongside. This makes a great dish for lunch, brunch or really any other occasion.
Fig Pizzas
Yes, it may sound little bizarre, figs on pizzas. But don't knock it until you've tried it. You can also use all your other favorite toppings alongside the fig. Rocket leaves, gorgonzola cheese, walnuts, they all go supremely well. Figs make a healthy pizza topping as well. This dish is going to look quite gourmet on the dining table with all these unique and exotic toppings.
Lamb Stew with Lemon and Figs
To really bring out the flavor of this dish, ensure an intense browning of the meat. The best thing about this dish is that it can be made at least a couple of days in advance. Make sure it has cooled down before you refrigerate it.
Fig, Apricot and Nut Biscotti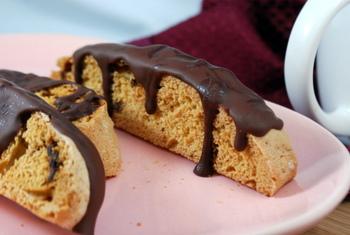 These double-baked crisp biscotti are chock-full with dried fruit and nuts, and are made lighter without butter. They're best eaten with a strong cup of coffee or dipped in some vanilla ice cream for a sweet treat. People are going to love the contrast between the lovely lemon-inflected biscotti dough and the intermingled tastes and textures of nuts and dried fruits.
Figs perish quickly and therefore they are dried to confine their subtle taste throughout the year, however the dishes made with fresh figs are far more delicious. Hope these fig menu ideas were enjoyable and you will enjoy preparing them as much as eating them.
Image credits - ifood.tv 
Fig Menu