Sugar Free Menu

19 May 2011
A sugar free menu is meant for people who are either on weight loss spree or are suffering from some medical condition like diabetes. Though it provides instant energy, but if it is not used immediately, it gets stored in the body as fat. So while planning a menu you have to take care that the food items are sugar free.
Planning a menu which is sugar free is not that tough. And since so many artificial sweeteners are easily available in the market these days, you can even include desserts and not worry about calorie intake or rising sugar levels.
In fact you can also add spices like ginger, all spice, cinnamon which provide a sweet flavor to the dishes so that you can get that sweet taste in your food.
Diet prohibitions for a menu which is sugar free are not many and you can pretty much eat everything. The do's and don'ts listed here will help you in charting out a meal plan for a menu free of sugar.
FOODS ALLOWED
FOODS RESTRICTED
Whole grains
Sugar
Nuts, legumes
Confectionary items like cakes, pastries
Artificial sweeteners—but in limited amount
Packaged juices, sauces etc.
Fruits and vegetables
Food stuff with ingredients like 'sucrose', 'fructose' and 'dextrose'—they are all forms of sugar
Chicken, fish, meat
Candies, chocolates,
So all in all there is not much that you have to leave out while planning the menu. And as these are just pointers, you can also look up for more food items which can be included in the menu.
Some Special Ideas for a Sugar Free Menu
Breakfast
You can add Herb and Cheese Omelet for breakfast.
This omelet has chives, dillweed, tomatoes and cheese etc. and is a delight to savor.
Another option which you can add to the menu is Breakfast Hash. This is made from sausages, onion, potatoes, etc. and flavored with salt and pepper.
Mid-morning
For mid-morning hunger pangs you can add fruits and a bowl of yogurt without sugar.
Lunch
Fresh And Easy Salad will be a perfect start to your meal.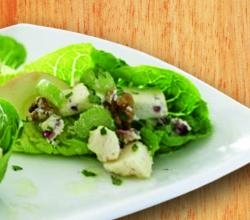 This is made up from lettuce, green onion, chives, spinach, green peas, cheddar cheese etc.
For soup, you can try Chunky-Style Split-Pea Soup with Ham.
This soup is made from split peas, onions, potatoes, ham hocks etc. and is very tasty.
You can cook up a Stirfried Cabbage & Rice. This dish is made from cabbage and rice and what's more you can even make use of leftover rice for this recipe.
A Champagne Chicken with Mushroom is also a good option for the menu.
It has boneless chicken breasts, sour cream, champagne, mushrooms etc.
Evening time
For evening snack you can include a glass of Carrot Juice or Tomato Juice with Bean Sprouts - it contains ingredients like celery, walnut, sprouts etc. and nutmeg is added for flavor.
Dinner
Thai red Curry Fish would be good option for dinner.
It is made from fish, bamboo shoot, eggplant, coconut milk, red curry paste etc.
Fried Rice would be a god accompaniment for the fish curry.
It has onion, chicken, ham and other spices which provide a delectable flavor to the rice.
A Sugar Free Strawberry Pie would be a nice dessert.
It is prepared from strawberries, vanilla extract, vanilla pudding mix, sugar free strawberry jello-o etc.
You can take tips from here and also create your own sugar free menu.
Image credit: ifood.tv 
Sugar Free Menu