Pineapple Menu

19 May 2011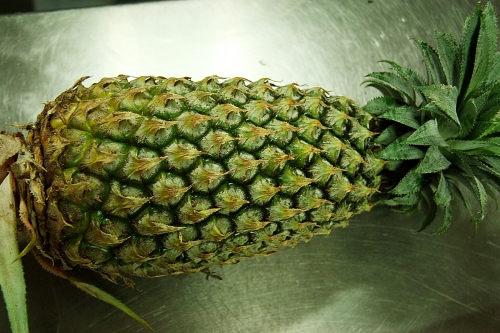 Creating a pineapple menu should be almost as fun as enjoying the dishes that you end up preparing at the end of it. Pineapples work extremely well in marinades so definitely keep that in mind when cooking with this fruit. Pineapple, in every form is divine, milkshakes, smoothies, ice creams, simply cut up or juiced; you simply can't go wrong with this fruit. Here is an equally divine pineapple menu.
Pineapple Butter
This is a delicious spread to use on bagels, sandwiches, croissants or just eat by itself.  You can make life a little easier by buying the pre-cut pineapple from the grocery store.  Place the sugar and pineapples in your slow cooker and leave this mixture to cook for 16 hours. Stir a few times through the day.  Add vanilla. Flavorings for fruit butters should be mixed at the end. Cinnamon might be a nice blend here. Process in a hot water bath for ten minutes and then let the jars cool on a flat rack.
Pineapple in Coconut Curry
This spicy curry from South East Asia will be a sure hit with the guests savoring this pineapple menu. This vegetarian pineapple Coconut Curry is so easy to make, yet tastes so intricate and wonderful, that it will require some restraint to not eat the whole thing standing in front of the stove. Most of the ingredients come straight from a well-stocked pantry, however, a good pineapple from a farmers market or local produce stand is worth the effort. While you can serve this curry with any rice or noodle, it goes mostly well with short-grain brown rice; the nuttiness of the rice enhances the freshness of the pineapple.
Pineapple Rice
Make sure you peel the skin of the pineapple really well before using them for this recipe. This dish is also ideal if you have a lot of left over rice from the night before. You will need some finely chopped pineapples along with a pineapple puree paste. The fruit gives a delectable bite to the dish. The aroma that comes out of the dish while cooking is quite intoxicating. After you have tried this dish once, you are going to want to make it over and over again because once will simply not be enough.
Ideally, a ripe pineapple would be the best kind to use for this dish. There will be no need for any extra sugar or artificial sweetener. Use low fat yogurt to make this drink really healthy. You can even combine a couple of other fruits to get a variation on the smoothie. Add some crushed ice and you get a delicious frozen smoothie.
Enjoy these delicious pineapple menu ideas. Remember, buying the fresh fruit in season will always give you a yummier end result as opposed to using out of season or frozen pineapples.
Image credits – ifood.tv
Pineapple Menu