Peach Menu

19 May 2011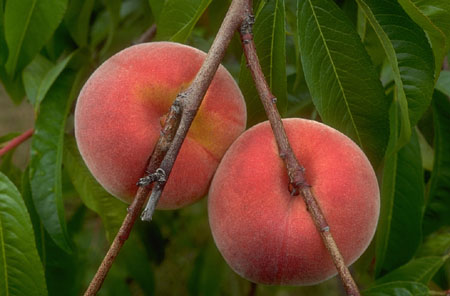 What can be more fun that creating a peach menu. One thing to remember while working with peaches is that if you use the fresh kind, the dish tastes so much better. Peaches however are a winter fruit as they have a short growing season, so make the most use of this fruit then.

Ideally, a ripe peach would be the best kind to use for this dish. There will be no need for any extra sugar or artificial sweetener. Use low fat yogurt to make this drink really healthy. You can even combine a couple of other fruits to get a variation on the smoothie. Add some crushed ice and you get a delicious frozen smoothie.
Barbecued Peach Chicken
For this dish you will need some not so ripe peaches. The marinade which you will use to marinate the chicken is basically a raw peach puree made by mixing a little salt, crushed red chilies, pureed peach, garlic, a little brown sugar, cilantro paste, cinnamon power and clove powder.  The pieces of chicken need to be dipped in for a couple of hours and make sure you let it sit in the refrigerator. This marinade will add a unique flavor to the chicken and will definitely make people want to come back for seconds.
Red Prawn and Peach Curry

This dish works best with rice and within the first bite you will be surprised at how deep, textured and full-throttled, this recipe will feel.  To make the preparation for this dish really easy, you can buy the ready - peeled, cubed peaches from the supermarket. Fresh prawns will give this dish a juicier, appetizing flavor but if you can't get your hands on any, the frozen kind will do just fine.
Peach Cream Pudding

This pudding is definitely comfort food at its very best. Substitute regular milk for a can of sweetened condensed milk and make the dish even more delicious. Peaches of course, are in it and vanilla wafers as well. You could even add some fresh sliced strawberries and fresh blueberries in it if you wanted to really heighten it up. Just make it several hours before you need to serve it so the wafers soften. Serve it in an attractive glass bowl or individual glass serving dishes for an impressive and delectable dessert.
Enjoy these delicious peach menu ideas. Remember, buying the fresh fruit in season will always give you a yummier end result as opposed to using out of season or frozen peaches.
Peach Menu