High Fiber Diet Menu
10 May 2011
High fiber diet menu isn't just a tried-and-tested way of warding away food cravings and putting a restraint on excessive bingeing but is also found to be equally good in aiding weight loss. Fiber obtained from fruits, nuts, cereals and vegetables not only help in creating a feeling of satiety in the tummy but also improves body metabolism and boosts digestion. Consuming around 20-25 gm of fiber everyday ensures that you burn fat fast, get rid of constipation, tame down blood sugar levels, and control cholesterol, etc.
 
Take High Fiber Diet Menu Regularly
Allowed
Restricted
Green and leafy vegetables
Processed foods
Whole grains
Sugar foods
Nuts
Alcohol
Legumes
Starchy foods
Beans
Refined foods
High fiber diet menu includes a balanced mix of dishes that are high on fiber and nutrition and low on fat. Here are few great chioces for fiber rich diet menu. 

 
This classic bread pudding prepared with fresh pears, multigrain bread, and low fat milk is a pure delight for the senses and can be served as a dessert or eaten for breakfast or brunch.
Tuna Steak And Vegetable Sandwiches
Apart from being a potent source of low-fat protein, tuna tastes absolutely delish. You can grill the tuna or braise, bake or poach it as you wish. Vegetables like eggplants and bell peppers just add to the health and delight of the dish.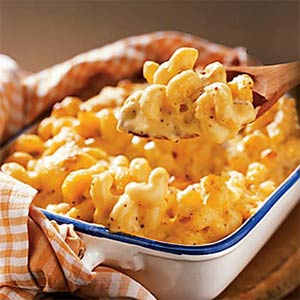 Loaded with insoluble fiber, this lip-smacking pasta made of lean ground beef, whole-wheat macaroni, spaghetti sauce, and Parmesan cheese makes for a yummy high fiber side-dish.
This traditional Mexican tortilla dish is an amazing way to add grains like corn and wheat to your diet. With beef as its main ingredient, tasty, healthy beef fajitas are an excellent way to nourish yourself with a high-fiber diet.
When you need a quick comfort food, this hearty soup made with yellow split peas and served with whole-grain bread or vegetables really makes for a quick, yummy meal.
 
High fiber diet menu are rich in indigestible substance that are best for maintaining a healthy colon, absorption of fatty acids in the body, and regulating smooth bowel movements. Including fiber rich food in your diet is indeed the way to achieve a slimmer fit body.
Image credits: ifood.tv
High Fiber Diet Menu