Turkey Menu

9 May 2011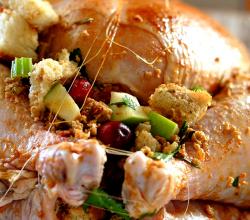 The best part about working with a turkey menu is the variety of accompaniments you can work with to complement a turkey dinner. Whether it's a holiday dinner or a special Sunday dinner, this menu is full of autumn delight. The oven and the charming smells will warm your home and your soul on a chilly fall day. Here are some turkey favorites that will be sure to thrill anyone.
Stuffed Turkey
The special flavors of this dish nicely complement the tender, juicy slices of the oven roasted turkey.  To make sure this dish turns out right, rub the bird with oil while the stuffing is heating. The stuffing should be filled into the turkey very quickly so you don't lost any heat, put it on a roasting pan, on a rack, sprinkle some salt and pepper and roast for 45 minutes. Decrease the heat to 350 degrees F and cook for another hour or until the bird attains an internal temperature of 170 degrees F.
Turkey Soup
You can use the turkey carcass to turn it into an appetizing turkey soup. You will need to save some of the turkey meat for this dish in advance and preparing the stock before hand will help as well. If you are making stock for future use in soup you may want to reduce the stock by cooking it longer, uncovered, at a low simmer, to make it more intense, and simpler to store. Prepare the turkey soup much as you would a chicken soup. You can add rice, noodles, or even leftover mashed potatoes. Sometimes a splash or two of Tabasco gives the soup a nice little kick.
Turkey Meatloaf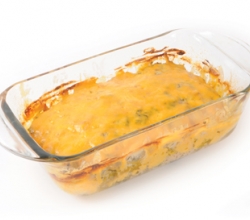 This dish can be created in an extremely healthy manner which will be an ideal recipe for a family dinner. Use lean ground turkey, breadcrumbs soaked in milk, and sliced vegetables to create a flavorful, tender, moist meatloaf. Pair this dish with some skinny mashed potatoes (replacing low fat buttermilk or low fat milk for butter and cream), and your preferred veggies.
Turkey meatballs are made from a good quantity of ground turkey meat rolled into a small ball along with other ingredients, such as breadcrumbs, finely chopped onion, spices, and perhaps eggs. Meatballs are traditionally prepared and rolled by hand, and are cooked by frying, baking, steaming, or braising in gravy. There are numerous kinds of meatball recipes using several types of meats and seasonings, including vegetarian and fish alternatives, and various methods of preparation.
Hope you enjoyed these turkey menu ideas. Turkey is one of the most commonly eaten meats worldwide so it's a pretty safe meat to cook with. Bon Appétit
Image credits - ifood.tv 
Turkey Menu