Mango Menu

9 May 2011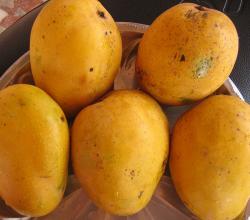 Creating a mango menu should be almost as fun as enjoying the dishes that you end up preparing at the end of it. Mango which is considered the king of fruits in India is seasonal in nature. You typically finds these only in the summer months. It is loaded with vitamin C and fiber which also makes it really healthy for you. Mango In every form is divine, milkshakes, smoothies, ice creams, simply cut up or juiced, you simply can't go wrong with this fruit.
Mango Martini
This exotic cocktail might appeal to the women more than men but that does not take away from the intoxication nature of this drink. Packed with a punch do to the vodka in it, it is sure to delight anyone right after the very first sip. Garnish it with a couple of fresh mango cubes on a toothpick to give this cocktail an attractive appearance.
Barbecued Mango Chicken
For this dish you will need some raw mangoes. The marinade which you will use to marinate the chicken is basically a raw mango puree made by mixing a little salt, crushed red chilies, pureed mango, garlic, a little brown sugar, cilantro paste, cinnamon power and clove powder.  The pieces of chicken need to be dipped in for a couple of hours,  make sure you let it sit in the refrigerator. This marinade will add a unique flavor to the chicken and will definitely make people want to come back for seconds.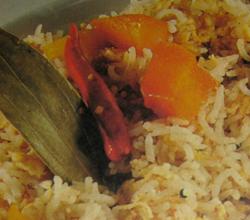 Make sure you peel the skin of the mango before using them for this recipe. This dish is also ideal if you have a lot of left over rice from the night before. You will need some finely chopped mangoes along with a mango paste. The fruit gives a delectable bite to the dish. The aroma that comes out of the dish while cooking is quite intoxicating. After you have tried this dish once, you are going to want to make it over and over again because once will simply not be enough.
Red Prawn and Mango Curry
This dish works best with rice and within the first bite you will be surprised at how deep, textured and full-throttled, this recipe may feel.  Making the  culinary preparation for this dish is really easy and ingredients are easy available, you can buy the ready - peeled, cubed mango from the supermarket. Fresh prawns will give this dish a juicier, appetizing flavor but if you can't get your hands on any, the frozen kind will do just fine.
Mango Smoothie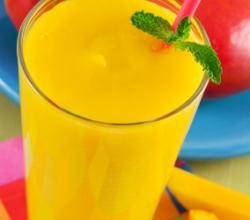 Ideally,  ripe mangoes would be the best kind to use for this recipe. There will be no need for any extra sugar or artificial sweetener. Use low fat yogurt to make this drink really healthy. You can even combine a couple of other fruits to get a variation on the smoothie. Add some crushed ice and you get a delicious frozen smoothie.
Enjoy these delicious mango menu ideas. Remember, buying the fresh fruit in season will always give you a yummier end result as opposed to using out of season or frozen mangoes.
Image credits – ifood.tv
Mango Menu