Summer with "Fruit of Gods-Mango"
18 May 2007
The mango  is a tropical summer fruit ..Mangos retain a special significance in the culture of South Asia where they have been cultivated for millennia. Reference to mangoes as the "food of the gods"  and the leaves are ritually used for floral decorations at Hindu marriages and religious ceremonies.
 

Varities of mango:
 

The taste of the fruit is very sweet. Malda,Pairi,Safdar pasand,Langra,Zardalu,Alphanso,Dusheri,Gulabkhas,Safeda,Mulgoa are the most popular varities of mango in India.
 Uses of mango: 

Mangoes are widely used in chutney, which in the West is often very sweet, but in the Indian subcontinent is usually sharpened with hot chilis or limes
 
Mango is also used to make juices, both in ripe and unripe form. Pieces of fruit can be mashed and used in ice cream. A more traditional Indian drink is mango lassi, which is similar, but uses a mixture of yogurt and milk as the base, and is sometimes flavoured with salt or cardamom. In Thailand and other South East Asian countries, sweet glutinous rice is flavoured with coconut then served with sliced mango on top as a dessert.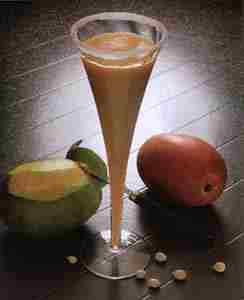 http://ifood.tv/recipe/mango_drink
 
"Mango Shake" or "Mangoshake" is a refreshing Indian summer drink. It is traditionally made of mango pulp, whole milk, sugar and ice cubes. However there are various other ingredients which are sometimes added, such as ice cream, fresh fruit, chocolate sauce and other sauces, along with whipped cream. It is very similar to a milkshake which can be consumed with a spoon.

http://ifood.tv/recipe/mango_shake
 Medicinal Imporatance:
The fruit flesh of a ripe mango contains about 15% sugar, up to 1% protein, and significant amounts of vitamins A, B and C .The mango is in the same family as poison ivy and contains urushiol, though much less than poison ivy. Some people get dermatitis from touching mango peel or sap. Persons showing an allergic reaction after handling a mango can usually enjoy the fruit if someone else first removes the skin. The leaves are toxic to cattle.
            Mango Shake by sonali:http://www.ifood.tv/node/3252
                              so, Enjoy SUMMER with Mango Recipes at ifood.tv
Summer With "Fruit Of Gods-Mango"