Egg Menu

2 May 2011
An egg menu can contain a variety of dishes from different cultures.  Since eggs don't have a strong taste, they are all useful for conveying other combinations of flavors. In addition, their exceptional protein composition, which starts out fluid, but with heat quickly, develops a structure that sustains other ingredients, is very useful in preparing many different kinds of dishes. The standard egg dishes –- among them quiche, omelet, frittata, and strata -– all have variations that you can use to your advantage, depending upon what your needs are for any given meal.
Egg Curry
This is a popular Indian dish made with boiled eggs, lots of onions, tomatoes and green chilies. It has a rich aroma and taste and a lover of Indian food is going to want to come back for more when eating this delicious creation. There are a range of spices that this dish makes use of which is what lends the unique taste. The best part about cooking curry based dishes is that they are quite versatile and flexible and can be made according to your taste.
Stratas
Stratas are egg, cheese, and bread casseroles that puff up when baking. This is a high carb dish although you can make them with low carbohydrate bread. A strata has the same ratio of liquid to eggs as a quiche, although conventionally milk is used, not cream. You can put whatever ingredient into it that you would put into a quiche or frittata.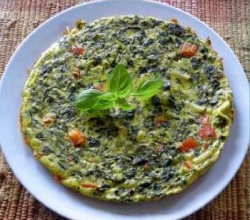 Not as popular in the United States, this is an Italian adaptation of an omelet. Because of the way it is cooked, it is more flexible, as it can be easily eaten later, and even frozen. Numerous portions are usually cooked at once, in only marginally more time than it takes to prepare an omelet. There are more than a few techniques, but an easy one that starts on the stove and concludes in a few minutes under the broiler. Note that while a "saucy" stuffing can work well in omelets, you would usually want to steer clear of putting sauces in a frittata.
Egg Custard
This dish needs to be baked at 350F until a thin knife introduced in the center comes out clean. Turn the oven off and open door, allowing the custard to cool without moving it around.This dish can be garnished with toasted coconut flakes, or a fruit sauce. The great thing about this dessert is that it can be served chilled or at room temperature. A preferred flavoring can be added to the custard before baking, such as a teaspoon of premium quality vanilla, a tablespoon of chocolate liqueur, etc. The custard can be decanted over a graham cracker crumb or pie shell made from rolled sugar cookie dough.
Hope you enjoyed these egg menu ideas. You can even play around with recipes and tastes on your own and create something unique.
Image credits - www.ifood.tv 
Egg Menu