Salad Menu

27 Apr 2011
A salad menu can be very easy yet a bit tricky to plan out. Easy because salads are easy to prepare, tricky because if you are planning a salad menu you need to take care of the ingredients that you are using. But the best part is you can use both raw and cooked ingredients in a salad.
The main reason behind planning a salad menu is to cut down on calories. Anyone going on a salad diet must keep in mind that it is a light diet which is meant to aid in weight loss or even in detoxification of the body.
So, the first requisite for a salad menu is low fat ingredients or ingredients low in calories. So if you were happy thinking that you can incorporate just anything in a salad you need to check below in the list for the do's and don'ts for a salad menu.
FOOD ALLOWED
FOOD RESTRICTED
Fruits
Fried food stuff like French fries
Vegetables
Cheese
Seafood like tuna, shrimp, crab or lobster (use cooked shrimp, crab and lobster)
Heavy dressings like mayonnaise
Low fat dressings like yogurt
Red meats
Olive oil
Cream
Well, since salad is a course in itself, so planning a salad menu should be easy as you don't have to worry about serving starters, entrée, dessert etc.
So here I'm providing you with a salad menu for the entire day to make it easy for you to plan the meals for yourself or your guests accordingly.
Cool Salad Menu Ideas
Morning
Since breakfast is the most important meal of the day, you can opt for a wholesome salad like a fruit salad. The Orange-Glazed Fruit Salad is a good option to try.
Made by using honey, unsweetened orange juice, orange, apple, banana, strawberries, pineapple, this salad makes for an interesting and fulfilling start for the day.
You can also try out this Curried Fruit and Nut Salad. This salad is made from lettuce, spinach, grapes, chives, almonds using salad oil, vinegar etc. for dressing.
Lunch
For lunch you can opt for a Bean Sprout Salad.
This easy to toss salad is prepared from bean sprouts, carrots, spring onions and sesame dressing.
You can also opt for a Low-calorie Crab Salad.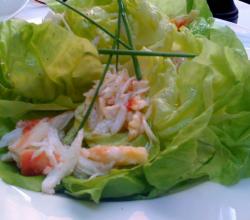 It includes crab, asparagus spears, hard boiled eggs, and Worcestershire sauce, lemon juice and mayonnaise type dressing.
If looking for a bit of variety, you can try making theTuna Pasta Salad with Herb Vinaigrette. This is made from cooked pasta, beans, broccoli, bell peppers, tuna and dressing of vinegar and vegetable oil with oregano, basil etc.
Dinner
This preferable should be a light meal so you can opt for a light salad like a Tangy Vegetable Salad.
It is a salad made from broccoli, red cabbage, hose raddish, red bell peppers, carrots etc.
A Low-calorie Cucumber Onion Salad is also an option you can opt for. This is made from cucumber, onion, and vinegar as dressing and flavoured with salt and pepper.
You can always look around for more recipes to prepare your own salad menu and munch your way to a healthy lifestyle.
Image credit: ifood.tv 
Salad Menu