Vegetarian Menu

25 Apr 2011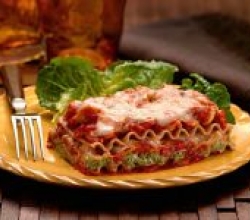 Planning a vegetarian menu can be little tricky if you are a non-vegetarian. Here I'll be providing you with vegetarian menu ideas for vegetarians which I'm sure will click with your guests. Before proceeding, there are certain things which need to be taken care of while planning a vegetarian menu.
FOOD ALLOWED
FOOD RESTRICTED
All vegetables
No meat or meat products
Milk and dairy products
Eggs
Foodgrains
Fish
All fruits
Animal based products like gelatin
Nuts
Certain types of cheeses made from rennin (an animal based product)
Be it any meal, starters, soups or appetizers are sure to be included.
Stuffed Mushrooms
A good starter for your vegetarian menu can be Stuffed Mushrooms. This recipe which combines a filling of parsley, walnuts, rosemary and tomatoes in the mushrooms makes for a very tasty starter.
Panner Tikka
Another starter with which you cannot go wrong is Paneer Tikka.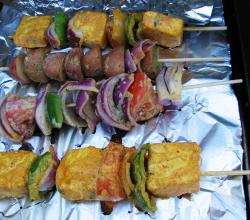 This dish of spicy marinated Cottage cheese or paneer cooked over a grill and sprinkled with lemon juice, is also a very well-liked starter.
vegetable And Noodle Soup
For the appetizers you can opt for either a salad or a soup. There are many choices available for soups and salads for a vegetarian menu. One soup which you can include is Vegetable and Noodle Soup.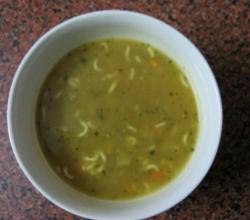 This soup includes vegetables like beans, carrots, cabbage and noodles and makes for a tasty treat.
Red Cabbage And Orange Salad
A salad which is sure to be a hit is Red Cabbage and Orange salad. This is a refreshing salad made from red cabbage and orange and flavoured with salt, orange juice, green pepper.
Ringatoni Pasta
For the entrée, you can try making pasta sans meat or meat sauce. One which you can try making is Ringatoni Pasta.
This multi-colored pasta made by adding vegetables and flavoured with nutmeg, basil and pepper makes for a delicious and filling dish.
Chana Masala
For main course you can also try making Chana Masala.
This is a very popular north Indian dish. It is made from chick peas cooked in spices.
Vegetable Pulao
You can team it up with rice dish like the Vegetable Pulao. It is a dish prepared by coking rice with vegetables like peas, carrots, cauliflower, potato along with spices.
Tomato Curry Garlic Noodles
If you want to try something different then you can opt for Tomato Curry Garlic Noodles.
They are noodles flavored with tomato curry garlic and are very tasty.
Atta Cashew Halwa
No meal is complete without desserts. For your vegetarian menu you can opt for desserts like Atta Cashew Halwa.
It is a sweet dessert made from wheat flour, sugar, cashew nuts and flavoured with cardamom. It is a bit laden with calories though as it is cooked in ghee or clarified butter.
Dried Cherry Apple Pie
You can also try making Dried Cherry Apple Pie.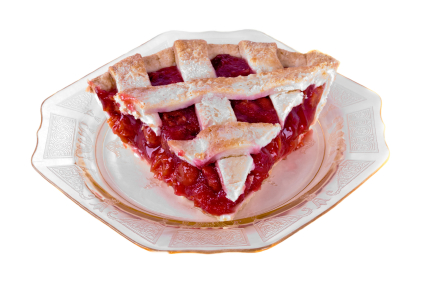 Made from apple and cherries this makes for a great dessert.
I hope these vegetarian menu ideas be of some help to you. If you want you can look around for some more ideas for a vegetarian menu for your party.
Image credit: ifood.tv
Vegetarian Menu