Orange Menu

25 Apr 2011
There are very creative dishes you can consider putting on an orange menu. Depending on whom you are creating the menu for, their likes, dislikes, and preferences, you should determine which dishes you want to feature on the menu.  Here are some orange menu ideas that will hit a home run with almost anybody.
A Splendid Sample Orange Menu
If you have ever done a Chinese take out, you have probably ordered Orange chicken at some point or the other. It's a favorite on their menu and extremely delicious as well.  It obtains its name from the use of dried orange peel in the recipe. As dried orange peel is not easily available for most people, try using fresh orange zest as a substitute, which works well. This is originally a Hunan dish, so don't forget to add the red chilies.
Orange Curry Roasted Vegetables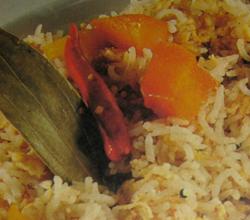 The vegetable glaze can be adjusted to suit whatever vegetables are in season. With summer zucchini and peppers, for instance, fresh herbs could substitute the spicy curry powder and lemon could be replaced for the orange. A little bit of curry powder and orange zest will bring a lot of flavor to this dish.
Orange rice made with orange juice, orange peel, butter, celery, onion, thyme, and other seasoning make this a delectable dish. Do remember to cook the onion in the melted butter only till it is tender and not brown. Once tender, add the orange juice, peel, salt and thyme. The rice is slowly stirred in when this mixture comes to a boil. Simmer for 25 minutes.
Spicy Orange Shrimp
This is a great shrimp dish with orange and some Asian flavors. Oranges can have a fairly understated flavor so the idea is to season the sauce without overwhelming the flavors of the orange. Basically you want to balance the flavor of the orange with the saltiness from the soy sauce, some relish from the vinegar, a bit of sweetness from the honey and some chili heat. The end result is a dish of juicy shrimp covered in a sauce with the fragrance and flavor of oranges.
Orange Tofu Stir Fry
The trick to make this a successful dish is to know how to make the sauce well. In a large sauce pan add orange juice, soy sauce and sugar. Bring to a boil and then turn it down to medium heat. Let the concoction cook down until it is chunky and then decant over vegetables and tofu. Watch the sauce mixture unless you want it to boil over into a sticky, syrupy mess on your stove top. This dish pairs well with brown rice.
This is a finger licking good dessert that is going to be a hit with who ever samples it. While baking it fills the kitchen with  a delicious fragrance. Part vanilla, part ambrosia, that aroma travels up the nostrils and sets the tummy growling.
Hope you enjoyed these Orange menu ideas. You can even play around with recipes and tastes  on your own and create something unique.
Image credits - ifood.tv 
Orange Menu