Healthy Dinner Choices

20 Apr 2011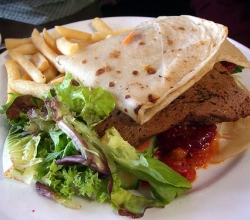 Healthy dinner choices for one and all - that is what the blog is all about. This blog concentrates on making your dinner healthier. If you are short of dinner choices, do not fret, just read on and discover an array of healthy dinner choices that are easy to prepare. Whether it is a sit-down classic dinner or a buffet spread, or a dinner party you will find many healthy options that can be tried out successfully. So go ahead and feed one mouth or four with these lovely nutritious dinner ideas.
Healthy Dinner Choices for One and All
Just go through these healthy ideas for dinner and you would definitely come up with one healthy dinner choice that you love.
Chicken/Vegetable Stir Fry – This is simple to make, uses healthy ingredients and can be prepared in no time at all. Vegetarians can skip the chicken part and still enjoy this wholesome dinner.

Turkey and Vegetable Sandwich – Make a filling of deli turkey meat, swiss cheese, lettuce, tomatoes, hot pepper and fill then in a tortilla for a delicious healthy dinner choice.

Chicken or Tuna Salad – Carrots, celery, onion, low fat mayonnaise, chicken or tuna with balsamic vinaigrette dressing is a salad that would be filling as well as tasty.

Steak and Pepper Tacos – Make the delicious filling with steak strips, pepper, onion, garlic and season according to taste. Wrap in tortillas and top with salsa.

Cajun Chicken and Dirty Rice – Add baked or grilled chicken to pre-cooked rice to make this delicious dish. This recipe is very healthy and would appeal to most people.

Black Bean and Zucchini Quesadilla – Healthy black beans are sautéed and placed in tortillas, sprinkled with cheese and topped with salsa.

Chicken with Roasted Sweet Potato Salad – Roast sweet potatoes until tender and season well. Cook the chicken and serve with the salad.

Chicken with Spinach and Mushrooms – Season and cook chicken. Stir fry the mushrooms and spinach leaves. Toss in with the chicken and serve this delicious healthy dinner choice with sparkling wine.
Nutritious wholesome dinners would ensure that the body receives all nutrients in required proportions. Healthy dinner choices go a long way in keeping you and your family healthy.
Image credit:
]]> ifood.tv
Healthy Dinner Choices