Mexican Appetizers Menu

18 Apr 2011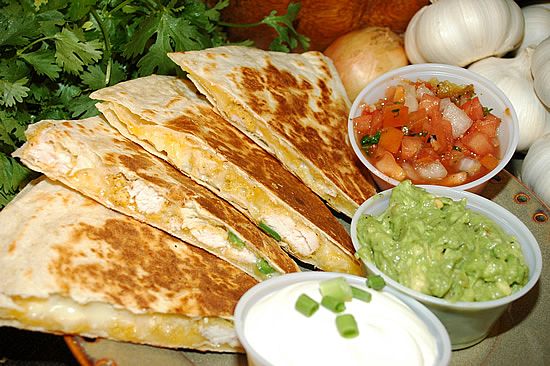 Mexican dishes are always recognized for its unique flavors, colourful presentations and the enormous usuage of different spices and ingredients. The best thing about Mexican cuisines is that they not only looks good but tastes good as well. If you are planning to make some Mexican appetizers this weekend, then you are on the right page. Here you can find the list of few delicious Mexican appetizers menu.
Empanadas
Empanada is a kind of pastry crust or meat pie which is normally filled with beef or vegetables. You can either cook the dish in the oven or can be fried. Empanadas are the very popular snacks in South America and Mexico.

 
Nachos Santa Fe
Being a very delicious Mexican appetizer, Nachos Santa Fe is basically a corn chips topped with grilled strips of chicken and steak. You can top the dish with cheese, sour cream, guacamole and tomatoes.

 
Mexican Holiday Spirals
With its tangy sour cream and the tasty smoked cooked ham, the dish can become a striking centrepiece for any special occasion meal. You can make the dish tastier by adding roasted red peppers and little pesto. It's really yummy…

 
Tortilla Triangles
Tortilla triangles are quite inexpensive and easy to make at home. You can make variety of tortilla triangles such as corn tortilla chips, vegetable tortilla triangles or beef on pita triangles with fresh mango salsa. These chips can be cooled and stored in an air tight container for the later use.

 
Mini Mexican Pizza
These mini Mexican pizzas are very delicious corn tortillas which are often topped with beef, beans and cheese. You can make the thick wedges of this pizza and serve as the appetizers.

 
Cheesy Tortilla Wraps
Cheesy tortilla wraps are the kind of wholesome sandwiches where you will get the real taste of cheese and ham. These sandwiches can be the great lunchbox meal for your kids. Even if you substitute the tortilla wrap with bun, the dish will retain the same flavor.

 
Chiles Rellenos
Chiles rellenos are the delicious snack item which consists of black or green peppers stuffed with cheese or any of your favorite ingredients. For richer taste, you can pour the sauce on the top.
Thus these are some of the simple Mexican appetizers which you can make on any occasion in your own kitchen. Go ahead and try any of these Mexican appetizers.
Image credits: blogs.nashuatelegraph.com 
Mexican Appetizers Menu