Healthy Dessert Ideas

17 Apr 2011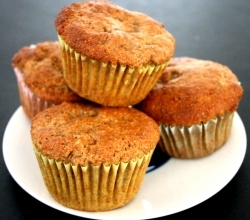 Healthy dessert ideas can help you from giving in to sweet temptations of desserts that need not always be healthy. Desserts can be healthy too! There are countless low calorie desserts that are easy to cook at home. You can also choose from the innumerable low calorie desserts available in the market today. Healthy desserts would definitely be low in calories and hence aid in weight loss as well as in prevention and control of many diseases like diabetes. The sweet after the meal need to not now be harmful, rather they can be delicious snacks to be enjoyed.
Pamper your Sweet Tooth with Easy Healthy Desserts
The healthy dessert ideas we have given below are easy healthy desserts that can be made without much preparation and would not take much time.
Fruits in Chocolate Sauce – Cut available seasonal fruits like peaches, melons etc and pour some chocolate sauce over them.

Dark Chocolate Pecan Avocado Muffins – These are so tasty that nobody would believe that they are healthy. They are made from healthy ingredients like whole wheat flour, olive oil, soy milk, avocados etc.

Pears in Honey – This is one of the easiest and delicious among healthy dessert ideas. Toss pears with honey, cinnamon and vanilla. Serve hot with vanilla ice cream.

Affogato – Vanilla yogurt, nutmeg and coffee liqueur gives this dessert an exotic irresistible taste. Enjoy it without guilt.

Berries with Low Calorie Vanilla Ice Cream – Top vanilla ice cream with berries like strawberries, raspberries etc. You can use low fat whipped cream instead of ice cream.

Chocolate Pumpkin Vegan Cupcakes – Spices, molasses, pumpkin and a variety of spices make this healthy dessert idea an unique experience.

Low fat Oatmeal Raisin Cookies – All the fat in this healthy dessert cookie is replaced with apple sauce.

Raspberry-Applesauce Gelatin – Combine red raspberry gelatin with applesauce. This is easy to assemble and is healthy as well.

Heart Healthy Cookies – Healthy ingredients like peanut butter, banana, rolled oats, dried fruits, nonfat dry milk powder etc make up this delicious cookie. Try it and enjoy it.

Apple Bread Pudding – This healthy dessert idea makes use of low fat ingredients like low fat milk, whole grain bread and egg substitute.
These healthy dessert ideas can change any meal into a success and there is no need for any guilt when you dig into one of these healthy desserts.
Image credit: ifood.tv
Healthy Dessert Ideas