Australian Breakfast Menu

12 Apr 2011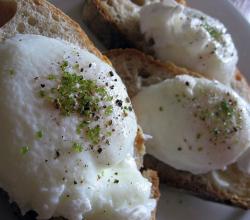 Breakfast is always considered to be the most important meal of the day. So if you are planning to include Australian Breakfast Menu for this coming weekend, here is the solution. Here I am going to share few delicious Australian dishes which you can include in Australian breakfast menu.
Since Australia has many historic links with United Kingdom, you will find many dishes have been inspired by traditional British cooking. Australian food is quite diverse and innovative. In the typical Australian dishes, one can trace the wonderful flavors of Thai, Chinese, Japanese, Indian and German cuisines. These influences have been permeated into all levels of eating, from first class dining establishments to local fish and chips shops where serving Thai sweet chili sauce with everything is now the norm.

 
Take a look at Australian breakfast menu:

 
Poached eggs are the delicious breakfast food items which can include any of your favorite ingredients. You can try this recipe by using eggs, vinegar and sliced bread. Enjoy the dish with asparagus, smoked salmon or soft cheese.
Ricotta and Berry Pancakes
Ricotta and berry pancakes are another delicious breakfast dishes which consists of fresh blueberries and ricotta cheese. These pancakes are very light, fluffy and tasty to eat. You can serve this dish with blueberry sauce or maple syrup.
Porridge with Banana - Pecan Topping 
Porridge with banana-pecan topping is a wonderful breakfast item which is very light and easily digestible. You will get the amazing flavors of banana and pecan. Try this dish and enjoy with your family and friends.
Chiko Roll
Do you like spicy food? If yes, then chiko roll is the perfect dish. It is a very spicy Australian version of spring rolls which is mainly made from mutton, cabbage, carrot and celery. You can either bake this roll or deep fried it.
Damper is very popular Australian soda bread made with wheat flour. These dampers are traditionally baked in the coals of a campfire. This dish has been a traditional food for the travelers in the outback.

 
If you are looking for light breakfasts, then you can include breakfast cereals, toast or fruits. You can also include few beverages along with breakfast dishes such as tea, coffee, flavored milk or any fresh juice.
Image credits: ifood.tv

 
Australian Breakfast Menu