Grill Menu
11 Apr 2011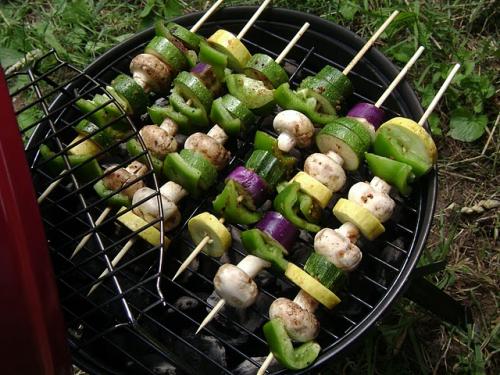 Ever wondered you can save time, money and still eat healthy? Yes, pick any recipe from a Grill Menu and experience the truth. The best part is any food from vegetable to meat can be grilled. Only thing that is to be kept in mind is to cut the food into slices before grilling them.
Importance of grilling
In grilling, dry heat is directly applied to the food's surface from all sides. This helps it to cook faster and retain all its nutritious contents in it. Some of the evergreen grill menu recipes are:
Grilled Chicken Recipes
Seekh Kabab
Looking for a compelling, high protein appetizer for your party? What's better than seekh kebab – a perfect grilling menu recipe that everyone likes equally - above all races.
Grilled chicken salad
Looking for an ideal side dish that is filling and healthy too? Try grilled chicken salad – this will satisfy your lunch-time hunger and keep you focussed until dinner.
Chicken shish kebab
Easy to cook and healthy to eat! Try this Mediterranean Chicken shish kebab recipe and imbibe yourself in its delicious and unforgettable taste. Serve this in main course.
Grilled chicken breast sandwich
Don't think twice when you need to serve your kid's uninvited friends at home – just serve grilled chicken breast sandwich. Trust me, they will love it like anything.
Jahanari kabab
This Indian grill menu recipe is not only the favorite of Indian tables but all has its lovers all across the world. Serve this boneless chicken recipe as part of main course meal and be prepared for the showers of praises.
Grilled chicken cutlets with papaya salsa
For those who don't mind their meal hot and spicy, try this American grill menu in their main course. Look for some other great main course chicken recipes here.
Grilled Vegetables Recipes
Grilled potatoes
Potatoes are perfect vegetables to grill. You need not even keep an eye on them. They are simply perfect and everyone's favorite! Serve it as an appetizer to your guests. Believe it they will enjoy it more than you had ever thought. You can grill a whole potato or slice it to make grilled jalapeno potatoes.
Corn on the cob
The ideal way of grilling corn is to cook it along with its husk. This will retain the moisture and doesn't let it burn or overcook. You can also apply butter on it before grilling it.
Zucchini
Cut zucchini in small pieces and grill them. Sprinkled cheese on hot zucchini tastes great. Try it.
Meats and vegetables
Grilled meats and vegetables are perfect make-ahead dishes for summer that are easy to make and great to serve. Serve them as part of your main dish.
Grilled Beef Recipes
Orange flavored grilled beef
Ever heard of fruit flavored grilled beef? Try orange flavored grilled beef where beef cubes are marinated in orange juice, soy sauce and ginger-garlic paste and grilled on charcoal, making this spicy and fruity recipe simply unforgettable. Serve this American beef recipe as side dish.
Grilled Filet of beef
Try this crispy grilled filet of beef to give an exotic experience to your guests. The cooking time takes little more than an hour but it is worth it. Serve it as part of the main course meal.
Grilled sausages
Serve grilled sausages in main dish and win praise from your guests. Sometimes flavored with fruit preserves with a hint of lemon and garnished with fruit pieces. Try this delicious American main dish once and become loyal to it forever.
Grilled Pork Recipes
Grilled pork sausage
Serve grilled Italian pork sausage as an appetizer and bring happiness in your dining room. Make sure grilled pork sausages are cooked properly and are free of bacteria.
Grilled pork chops
Grilled pork chops is an easy to make American appetizer that fulfils your guests desires and an easy to make option you will love to follow again and again.
Grilled Seafood Recipe
Grilled crabmeat with bacon
Grilled bacon is an all-time fast-food favorite. If served in breakfast with egg sandwiches, grilled bacon can give a perfect start to the day to the kids. Try grilled crabmeat with bacon recipe for a magical experience.
Grilled Fruits Recipes
Grilled peach
Ever heard of deliciously popular dessert - Grilled Dessert Peaches? Get a fruity taste in this grilled recipe and end you meal on sweet note.
Grilled pineapple
Thinly sliced pineapples are marinated, caramelized with sugar and grilled to make another mouth-watering dessert called grilled pineapple. Serve this delicious dessert with ice creams and enjoy!
Grill Menu