Hindu Menu Ideas

10 Apr 2011
Hinduism lays great emphasis on food and Hindu menu has more than 400 dishes- no wonder it is referred to as "the kitchen religion". No public, social and religious function is complete without distribution of food, through there is several complex rules related to preparation and consumption of food. India - where Hinduism is the primary religion, has the most developed cuisines of the world. Here are some ideas related to Hindu foods and menu.
Hindu Menu Ideas for Wedding
Finger Foods and Snacks
Chicken reshmi Kebabs, chicken chops – Fried spicy chicken dipped in batters using a variety of spices, prior to deep frying or grilling them on charcoal ovens.
Vegetable chops, egg devil, fish fries, paneer pakoras – Fresh chopped vegetables, egg slices, fish fillets and paneer cubes are dipped in spicy batter before being deep fried.
Dahi Vada – A delicious dish prepared with curd and deep fried balls prepared from urad daal.
Samosas – A stuffed vegetable snack.
Pani Puri – One of the most mouthwatering snacks served with tangerine juice mixed with water and other ingredients.
Lunch Menu
Pulav, Fried Rice, Jeera Rice, Biriyani – This forms the main course meal and is prepared with rice, with vegetables. Biriyani is flavored rice cooked with chicken or mutton.
Stuffed Parathas, Puris – These are prepared with flour and fried in oil. Stuffing might be of cooked cabbage or mashed potatoes with spices.
Karhai Chicken – Tender spicy flavored chicken, prepared in a wok with special local spices.
Gosht –  Extremely spicy mutton dish, prepared after marinating the mutton in curd for a prolonged duration.
Machhi Hariyali – This is a fish dish, prepared after marinating fish in lime juice and then cooked over medium heat till the fish is tender.
Mixed Vegetables – This is for those who love vegetable dishes and is a wonderful combination of seasonal vegetables.
Desserts
Shrikhand
Jalebi, Rasgullas, Kala Jamuns
Hindu Menus – Everyday foods
Breakfast Menu ideas
Roti, stuffed parathas, puris with mixed vegetables
Stuffed Idli, Dosa sambhar – Food closely associated with southern India
Paneer, egg, vegetable sandwich
Thepla, Poha – This is a dish popular in Western India.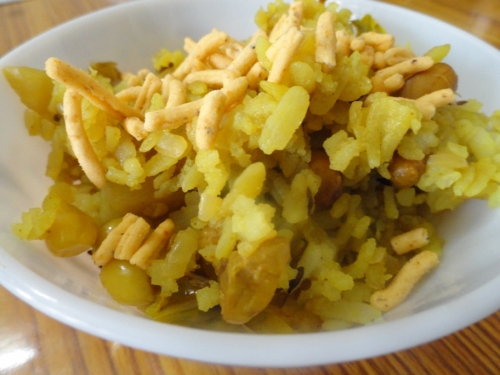 Lunch Ideas
Rice
Parathas – Flour dough flattened and cooked on medium heat with butter
Daal – Lentil soup with spice
Butter Chicken, Chicken Curry – Chicken slow cooked in a wok with butter
Fish – Stuffed fish.
Mixed Vegetables – Delicious mix of seasonal vegetables.
Traditional Hindu Menu
Kesar Chawal – Flavored rice cooked with turmeric and other vegetables.
Palak Gosht – Mutton cooked with palak ( green leafy vegetable)
Naan – Quite similar to bread – prepared in an oven
Paneer Tamatari - Cottage cheese in a gravy prepared with fresh tomatoes.
Pickles and chutneys:
This forms an integral part of Hindu menu and is served on all occasions – everyday cooking, special occasions and on social events too.
Image Credits; ifood.tv
Hindu Menu Ideas