Baptism Menu

10 Apr 2011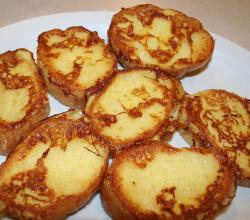 Planning Baptism menu, involves the consideration of a large number of factors, since food is the main component of such a gathering, which needs to be delicious and choicest. Baptism is a memorable celebration and one of those few occasions which commands a huge celebration among friends and family members, after the completion of the religious ceremony .Here are some Baptism menu options which you will surely find useful.
Baptism Menu Ideas - Brunch:
French  Toast – Delicious combination of fresh bread, dipped in beaten egg and a dairy mixture, before deep frying.
Cheddar and Ham biscuits - Reduced fat cheddar cheese, low fat ham and milk are the basic ingredients used in the preparation of these biscuits.
Green and Red Grape Salad – Healthy combination of red and green fresh grapes.
Breakfast scramble – A nutritious scramble prepared with diced onions, bell peppers, crumbled tofu, nutritional yeast, chiptotle powder, olive oil and salt and pepper.
Water Melon carved – This also works as a centerpiece during the occasion.
Baptism Menu Ideas - Lunch:
Pulled Pork Sandwiches – These are prepared with delicious pork tenderloin, root beer, and barbecue sauce, hamburger buns slighted toasted with butter and other herbs as per choice. Once the pork is well cooked, it is stirred well in barbecue sauce and served over fresh buns and is an integral part of Baptism menu.
Baked Potato Soup – This is one of the must have dishes in Baptism party prepared from hash browns, butter, cheddar cheese, fresh cream, butter, milk and salt. This is normally cooked on special occasions in a very large pot with butter and served immediately after cooking.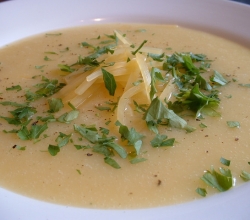 Crockpot cheesy potatoes – This dish is prepared with shredded cheddar cheese, fresh cream from chicken soup, melted margarine, sour cream, potatoes sliced thickly, stuffing mix in varieties, onions and other ingredients. This dish normally takes time to cook.
Fruit Salad - Fresh fruits which include bananas, cantaloupe, strawberries, grapes, orange juice, coconuts and other fruits are used to prepare this salad, with a dressing of fresh cream.
Chocolate fruits in crock – This is the main dessert of Baptism menu prepared with chocolate chips, fruits and pretzels.
Other Options
Appetizers – These are an integral part of the menu and include stuffed mushrooms, kebabs, smoked salmon, deep fried chicken wings and baked vegetables.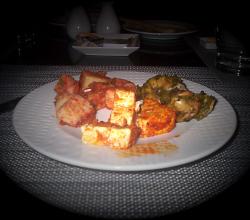 Finger Foods – These are fresh platters of chopped diced vegetables, imported cheese, bread baskets, crackers and a large variety of dips, such as cream cheese dip, raspberry dip and spinach dip.
Traditional Baptism Menu Ideas:
Meat Trays – Meat trays which included barbecue styled steaks, sausages, lamb chops, roasts, spice dried meats were quite common.
Seafood Trays – These were special trays for sea-food lovers and included shrimps, mussels, oysters, crabs, jumbo fishes and other varieties of sea-food in fried, dried, with gravy and other styles.
No matter, which type of Baptism menu is chosen, a delicious Baptism cake always finds its place in the celebration to make the occasion complete in all respects! 
Image credits: ifood.tv
Baptism Menu