Swedish Dinner Menu

8 Apr 2011
Are you looking for Swedish dinner menu? If yes, then you have come to the right page. Here is a Swedish dinner menu suggested by my friend who lives in Stockholm (Sweden). Swedish food is known for its authentic taste and flavour. It is a very interesting cuisine to taste. One can find Swedish cuisines to be really varied yet quite simple to prepare. Here is a list of Swedish dishes which you can use to select a Swedish dinner menu at home.
Kottbullar Swedish Meatballs
Kottbullar Swedish meatballs are the part of the Smorgasbord table at a Swedish Christmas. These meatballs are made with ground beef mixed with breadcrumbs soaked in milk and finely chopped onions. You can season the dish with white pepper and salt. The dish can be enjoyed with boiled potatoes or pickled cucumber.
Janssons Frestelse
Janssons frestelse is a traditional Swedish casserole which is generally made with potatoes, bread crumbs, pickled sprats and cream. Before you bake the dish, you can sprinkle salt and pepper for an enhanced taste.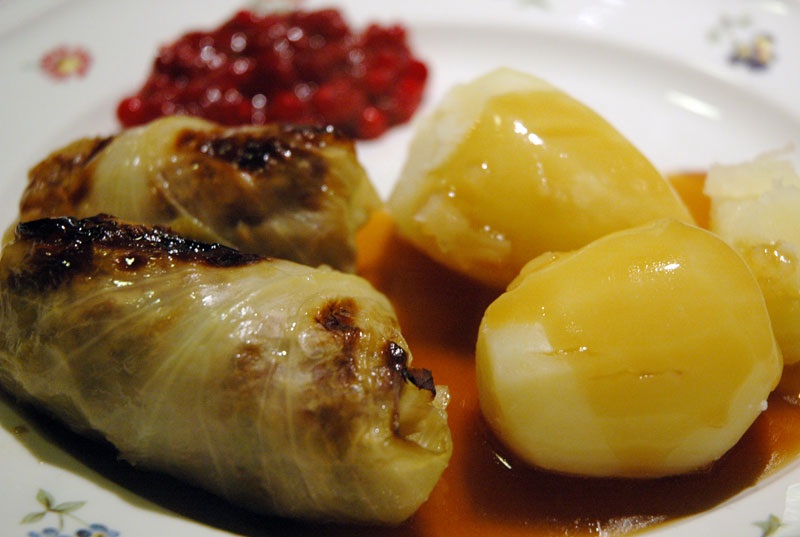 Palt
Palt is a traditional Swedish dumplings filled with meat. Palt is normally served with butter or a glass of cold milk.
Kalops
Kalops are the classic Swedish autumn dish which actually fills you with energy to ward off the autumn chill. It is a kind of meat stew which can be served with potatoes, pickled root beets and a glass of beer.
Smorgastarta
Smorgastarta is a variety of sandwich which consists of creamy fillings and resembles a cake than a sandwich. These sandwich cakes can be accompanied by any combination of liver pate, olives, prawns and ham.
Kaldolmar
Kaldolmar is a cabbage roll stuffed with ground beef and pork. You can stuff the rolls with rice too. The dish can be served with boiled potatoes or any kind of gravy.
Raggmunk
Raggmunk is a Swedish potato pancake which is fried in butter and can be served with fried pork and lingonberries. These pancakes are very crispy and buttery around the edges.

Thus these are some of the authentic Swedish dishes which are very simple to make.
Enjoy!!
Image Credits: justfoodnow.com
Swedish Dinner Menu