Low Diet Menu
5 Apr 2011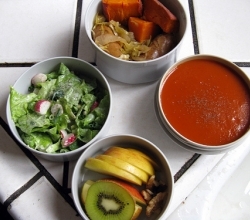 Low Diet Menus implies to those kinds of food that are low in calorie and fat but are highly nutritional and fiber rich. With low diet menus you can enrich your health with protein and vitamins while cutting down on carbohydrate, sugar and fats. Low diet menu ideas are ideal for those who are working out towards reducing weight. So, pep up your diet plans with tasty but healthy menus on the plate.
Food Items Allowed/Not Allowed In Low Diet Menu
Allowed
Not Allowed
Fruits
Coffee
Vegetables
Alcohol
Nuts
Fried Foods
Brown Rice
Sweets
High fiber meat
Canned Fruits
 Different Low Diet Menu Ideas
Low Diet Breakfast
Breakfast is the most important meal of the day to maintain a healthy metabolism. Brown Rice Breakfast has quintessential supplements and goodness of numerous essential vitamins can give you the boost to last through the day.
Low Diet Lunch
Round Diet Fruity Lunch consists of varieties of raw foods enriched with minerals and iron and a good potential source to it are green vegetables and fruits.
Low Diet Snack
To develop lean muscle mass choose a low fat but high protein snack that can go a long way to curb your hunger and is suitable for your taste bud. Try Lentil Burger, a yummy snack. Alternately opt for variety of nuts like walnuts, hazelnuts, peanuts, pecans and almonds to relish.
Low Diet Salad
Salads detoxify your body and raw vegetables and fruits can boost necessary oxidation keeping you looking young and energetic. A Cucumber Salad is a must-have in the middle of the day.
Low Diet Dinner
There's nothing like maintaining the good food balance throughout the day till dinner. Low diet bread, low carb tortillas, low carb pastas, and high fiber meat choices are excellent source of fiber rich food apt for dinner. Lemon Herb Chicken is an ideal supper menu on your plate
Desserts are not  a sin and you can still savor them being on low diet as well! Avocado, Lime and Melon Dessert Salad, Cheese Cake, Fruit Diet Pie, Light Sponge Cake, Diet Chocolate Cheesecakes and so many of other varied desserts can make sure you never miss sweetness from your life.
Being on a diet doesn't mean that you have to say good bye to good food. Low diet menu is only about saying good bye to unwanted calories and fat. With these excellent low diet menu idea, plan your meal that is enriched with good health and ultimately good life.
Image Credits: ifood.tv 
Video Credits: ifood.tv 
Low Diet Menu