Thai Dinner Menu

5 Apr 2011
A Thai dinner menu can provide you with many exotic and interesting food items e for sure. Opting to try out Thai food can be a pleasant experience indeed! While a Thai dinner maybe reckoned as somewhat similar to a Chinese one, it varies in its use of spices considerably. It is also a little more hot and spicy than its neighboring cuisine with the use o garlic, lemon grass, basil, chilies and soy sauce abounding in each and every mouthwatering dish. Let us now try and find out a little about the dishes that can be served at a Thai dinner party.
Starters
Why not start off with the Tom Yum Kung or shrimp soup. The hot and sour taste cleanses the palate making it ready for the delights yet to come while being light and flavorful at the same time. A Thai dinner without the crunchy cabbage salad is not quite complete. Chew on to the fresh leafy vegetables as you get ready to eye the main courses set out tantalizingly.
 Main Course
Thailand is a land that thrives on rice. You will be amazed to find such staggeringly numerous recipes for the humble rice. Steamed white or brown rice on the menu can help you discover the true taste of the other dishes properly. Although the stir fried rice along with many delectable items make the staple food a treat in itself. The dish is often garnished with fresh green vegetables and tomato wedges maing it a sight for sore eyes as well.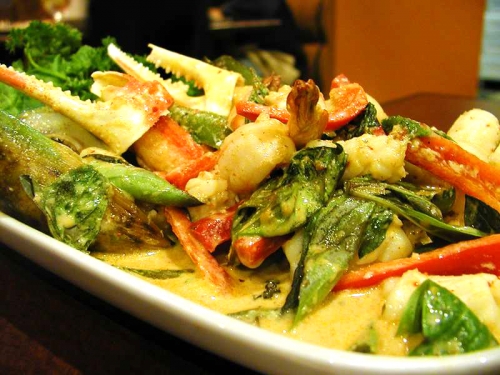 The Kaeng Khua Saparot or the curried shrimps can accompany a rice dish thereby giving the Thai Dinner Menu a delicious twist. This southern Thailand dish is made with juicy pineapple chunks which make the seafood platter sweet and spicy all at once. A treat for your taste buds indeed!
Thai Dinner Drink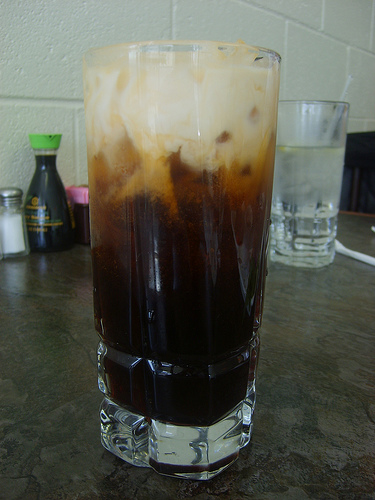 The Iced Thai tea made with roasted anise and liquorice flavor is poured in a tall glass over a bed of ice. Topped with some evaporated milk, this sweetened drink helps to dilute the hot taste of chilies leaving your palate open to try out more varieties of Thai cuisine.
Dessert
Bid adieu to the Thai dinner menu by selecting the green mango ice cream. A wonderful combination where the Eastern fruit unites with the western recipe.
It would surely be a treat to be able to try out each and every dish listed on a Thai dinner menu. However, choose with care as you might not be able to eat it all. Here's wishing you kŏr hâi jà-rern aa-hăan, that's Thai for Bon Apetit.
Image Credit- ifood.tv/photo, ifood.tv/photo/, thumbs.ifood.tv, ifood.tv/photo/thai 
Thai Dinner Menu