Top 3 Easter Dinner Menu Ideas

31 Mar 2011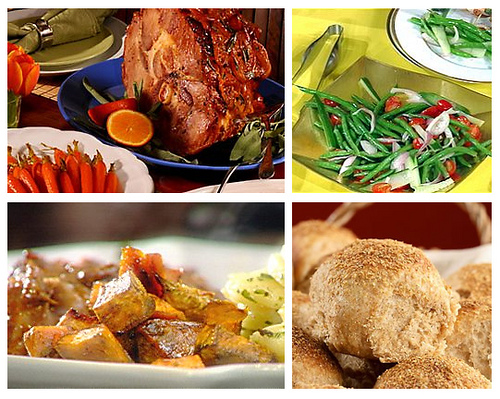 Spring, Easter and the bounty of nature can make the festive season bounce with joy and, give you all the spirit to make your Easter dinner menu ring with the same fervor.
So let us explore the different Easter dinner menu ideas from the simple to the elegant to  the sophisticated.
Easter Dinner Menu 1
Golden-glazed ham with fresh spring asparagus, new potatoes with  fresh thyme make a delightful menu for Easter dinner menu as:
•    Butter lettuce salad with almonds and Parmesan: Butter lettuce with outer leaves removed, egg yolk, whole mustard, canola oil, extra virgin olive oil, freshly ground black pepper, grated parmesan cheese and lemon juice, sliced, toasted almonds… the salad in the making is a scrumptious crunch.
•    Baked ham with mustard-maple glaze:  With cooked, bone-in half ham, cloves, and dark brown sugar; Dijon mustard and maple syrup for the glaze; the ham goes for baking in the oven, the dish is good to look at and eat as well.
•    Roasted Potatoes with carrots and thyme: With baby Yukon gold potatoes, peeled carrots, sliced lengthwise, minced fresh thyme, butter and olive oil, the potatoes go for a roast in the oven, with a toss in olive oil and other ingredients.
•    Coconut tartlets: For a finishing touch to the Easter dinner Menu, coconut tartlets with poached pineapple and mascarpone cream in a make of sweetened shredded coconut and butter, diced pineapple, pineapple juice, star anise, mascarpone cheese, whipping cream and lightly crushed pink peppercorns  make a yummy treat for Easter Dinner menu.
Easter Dinner Menu 2
Instead of the traditional ham and lamb, try grilled chicken with cheesy pasta and sweet lemon tarts.

•    Grilled Chicken : With cut-up whole chicken, firmly packed dark-brown sugar, dried crushed red pepper, cider vinegar, salt, pepper in vegetable oil, marinade  the chicken and let it stay for a couple of hours before going for the grill.
•    Three-cheese pasta: A refined version of the Mac 'n' cheese, this dish with ziti pasta, chilled Alfredo sauce,  sour cream, ricotta cheese, large eggs, grated parmesan cheese, mozzarella cheese, chopped fresh parsley  make a scrumptious casserole, making you melt with the warmth of spring and the softness of cheese.
•    Spinach and strawberry salad: With baby spinach and fresh strawberries topped with chopped bacon, or sliced red onions, broccoli florets, blanched sugar snap peas – the salad sports a wide spectrum of colors and flavors to please the eye and the palate as well.
•    Citrus tart:  With crushed ginger snap cookies, melted butter, brown sugar, brown cinnamon, sweetened condensed milk, fresh lemon juice, frozen orange juice concentrate, large eggs, heavy whipped cream, granulated sugar and fresh mint leaves, orange and lemon slices for garnish, the tart is one chilling way to wind up the Easter dinner menu.
Easter Dinner Menu 3
Give your Easter dinner the touch of Italy with a lamb dish, polenta, zucchini and fresh berry pavlovas.
•    Rack of Lamb in Pistachio crust: With French cut racks of lamb, Dijon mustard, garlic cloves, chopped  fresh chives, parsley and mint, finely chopped pistachios, grated lemon rind, lemon juice, salt and day-old white bread(to make bread crumbs); you entreat yourself and your guests to the classic Easter lamb, the Italian way.
•    Polenta with tomato compote: With dry polenta, dry white wine, white sugar, low-fat milk, slice shallots, black pepper, olive oil and shaved fresh parmesan cheese, you have a creamy polenta in the making, topped with tomato compote and the cheese.
•    Braised zucchini and leeks: Zucchini and leeks make an amazing combination for an Easter dinner menu idea. Finely chopped leek and zucchini, with minced garlic in a base of melted butter make a delectable veggie side for your Easter dinner.
•    Fresh Berry pavlovas:  With blueberries, black berries, sliced strawberries, sugar, commercial crème fraiche, fat-free yoghurt, cream of tartar, sugar and egg whites, you have a whipping dessert, which will become the crème of your Easter dinner menu.
The above mentioned ideas for an Easter dinner menu will put you on the mettle in symphony with spring, which rejoices with soulful rebirth and revival.
Photo courtesy: ifood.tv   
Top 3 Easter Dinner Menu Ideas