7 Menu Ideas For A Baby Shower Party

29 Mar 2011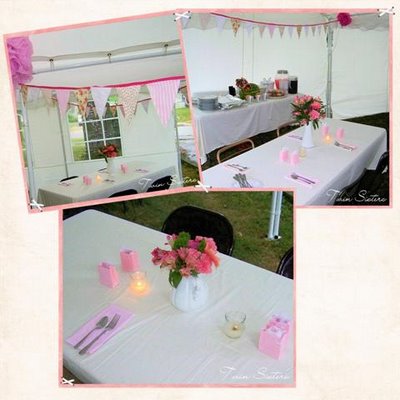 Looking for menu ideas for baby shower? Read this article and find out on baby shower menu ideas.
A baby shower is a traditional event of great joy. In this event to be mother will be surrounded by her closest friends and family members, and perform traditional rituals and offer prayers to the god in order to welcome the new member to the family, safe and sound.
Planning is very essential in any party and it's a vital reason to make a party success. One of the most important things one should plan in advance as much as possible is the menu for the shower.
Healthy finger foods are a great choice to promote good nutrition option for the mother-to-be and guests.
Menu ideas for baby shower:

 
Planning the party:
Ensure you know how many guest will be joining the party. This planning won't let you waste food.

 

Select the time and date of the shower. This matters a lot as the food chosen for evening and afternoon differs and food chosen for winters and summers differ.
Planning the food:
Once the time of day and number of people is decided, you can start thinking about what to serve for the guests.
Serve an appetizer:
Many prefer to serve a meal with an appetizer, main course and dessert. But the choice of food and the list on the menu is entirely up to once decision and the budget.
Serve desert with elegance:

We can have a table set up with different kinds of cakes such as chocolate, lemon and butter scotch and another table with ice cream flavors plus toppings to go with them like chopped nuts and Choc chips.
For lower calorie items you could add fruit salad and ice milk on the menu.
Theme based servings:

Theme idea can be creative and can make the party enthusiastic. For example, if the shower is held in February, we can borrow a Valentine's Day theme and serve mainly desserts to the guests.
If most of the family members are anticipating a baby girl then you could opt for a pink theme and if it's a boy then choose blue. We can have guests served with a pink grapefruit salad or creamed tomato soup and then proceed to a main course. Dessert can be strawberries with cream or a cake decorated with pink icing. We can even serve drinks of pink lemonade and red cool-aid.
Serve meal appetizer size:

Serve a menu of all appetizers. Item from soup to main courses can be twisted into appetizer sized portions. This offer guests a wide variety of tastes.
Appetizer menu items such as:
Mini-Quiche
Fruit and Vegetables
Diaper-Shaped Sandwiches
Alphabet Cookies
can make a best choice for the menu list.
Traditional menu:
There are many varieties of vegetables that come in smaller sizes. Gently grill the tiny vegetables and serve with the main course. Bring out espresso or cappuccino in small cups and make cupcakes for dessert.
For recipe idea for baby shower, visit ifood.tv.
Menu ideas for baby shower can get creative and some hard work to make the event a success and worth remembering for would be mom.
Image credits: jillfrancinemiller.blogspot.com
7 Menu Ideas For A Baby Shower Party