5 Amazing Fun Food Ideas For Mardi Gras Party

25 Mar 2011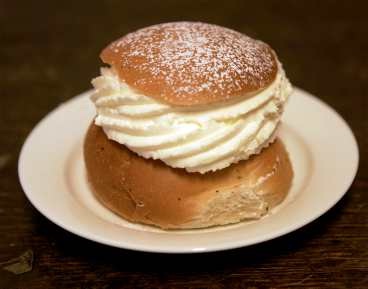 It is not always necessary to stick to traditional foods, but you can incorporate some fun food ideas this Mardi Gras celebration. These fun food ideas can be conceived by including a twist to the traditional dishes. Below listed are five fun foods, that you can give it a try this time. Be creative and add more fun to the celebratory atmosphere of the event.
1. Semlas
Semlas are the pastries that are normally available during the time between Christmas and Easter in the bakeries. A pastry that is stuffed with almond paste or different flavors of jams, these are normally used as dinner biscuits. A very delicious and light food, these can be used as a fun dessert this Mardi Gras season.
2. Milk Punch
The creamy bourbon drink is one of the Mardi Gras foods that is popular in New Orleans. A very simple to make dessert, you can incorporate funny ideas into this.
Create a milk punch milkshake by blending caramel ice cream or vanilla ice cream and bourbon with sufficient milk. Serve with grated nutmeg in a tall glass. Your guests will be left amazed. You can also make hot chocolate milk punch. All you need to do is to blend cocoa powder, milk and honey and simmer in a small saucepan. Serve in a tall glass with marshmallows topping, a bourbon shot and grate nutmeg.
3. Virgin Tropical Hurricane
The original tropical hurricane is made from dark and light rum and hence cannot be offered to kids. You can prepare a 'virgin' tropical hurricane sans alcohol and make your kids happy. Blend orange juice, pineapple juice and passion fruit/grapefruit juice with the juice of half a lime and 1 tbsp grenadine. Serve in lamp-shade-styled glasses garnished with lemon wedges and cherries.
4. Fresh Fruit Kabobs
A really creative and unique of fun food ideas that can be included for the Mardi Gras celebration. You can use any fruit of your choice, but preferably choose the fruits of the season. You can include banana, pineapple, apple, grapes etc. If you are using banana, dip them into lime water before using. Prepare a dip by blending cottage cheese, unsweetened yogurt, honey, pureed pears, lemon juice, cinnamon powder, salt and little red paprika flakes. Combine all the ingredients, mix thoroughly and prepare the kabobs. Serve hot.
5. Cajun Black Beans with Sausage and Corn
A very easy Cajun specialty, this will be a great food item of your Mardi Gras meal. A single pan dish, it doesn't even require half an hour. A stir fry recipe idea that doesn't require much oil, it is a very tasty and healthy option made using varieties of veggies, sausage, garlic, corn, thyme and pepper. Serve it hot with red paprika sauce and balsamic vinegar and a dash of lemon juice.
Make this Mardi Gras day a unique one with these fun food ideas.
Image Credit: Boatpastor.worldpress.com
5 Amazing Fun Food Ideas For Mardi Gras Party