10 Top Notch Ideas For Spring Dinner Menu For Two
23 Mar 2011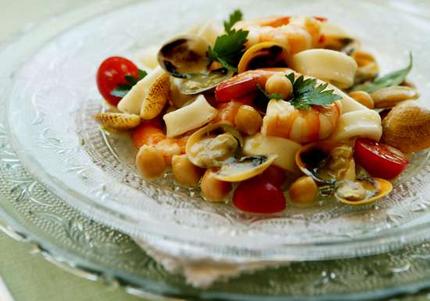 Spring dinner for two sounds as good as the season spring itself. Trees are bedecked with flowers and the spring birds come back home. The joy in the air is palpable. It is the end of winter and everything is in bloom and coming to life. A perfect time to celebrate with your loved one as spring season starts.  Try these 10 top notch ideas for spring dinner menus.
Spring dinner can be made interesting with just a little imagination and plenty of spring produce. Serving a dinner for two can be made cozy and less of a hassle by picking easy menus that you both can share making in the kitchen. If anything, it would only enhance the romance.
Spring is that time of the year when certain fruits and vegetables are found in plenty like the asparagus, artichokes, peas, beans, leeks, avocado, shallots, spinach, strawberries, apples, oranges, zucchini, kiwi, and a lot more. There are so many dishes to chose from, so many vegetables and fruits to pick. Pastas, salads, rice bread, soups, and meat are what you could go with.  
Ideas For Spring Dinner Menu For Two
Spring salad with Pasta primavera and a bottle of red wine.
Asparagus soup with baby beans and spinach, green onions and fresh herbs tossed together.
Pasta, rice, potato and Polenta with a slice of cheese cake.
Italian Seafood salad, spaghetti and wine
Grilled sardines or Salmon with grilled bread and vegetables on a skewer
Chicken sandwich with tomato salad with tapioca pudding
Roasted bass with salad and soup. Maybe strawberry shortcake on the side.
Grilled chicken, roasted Rosemary potatoes, peas and rice pudding
Lamb with honey lime dressing, whipped cream and lime juice, along with brown rice and salad. Wine on the side.
Quiche, soufflé, salad and fresh fruit juice with mint in it.
You can also try a sautéed chicken in spices with a spring vegetable soup on the side.
Or go for cooked asparagus, bread, canapés, and artichoke fricassee.
If Italian dishes are your favorite then try different pasta or spaghetti with spring vegetables. 
If Mexican dinner is what is on your mind then whip up fajitas with chicken and spring veggies, cook some Mexican rice with a traditional Margarita on the side.
Hope these spring dinner menus for two will get you springing out of your chair and setting it all up. Use the spring veggies and give these recipes a shot. Then light that candle, pour some wine and bring on that romance of a cozy dinner for two either indoors or outside under the stars.
Image Credit: smh.com
10 Top Notch Ideas For Spring Dinner Menu For Two