What Starters To Serve For A Stag Party

18 Mar 2011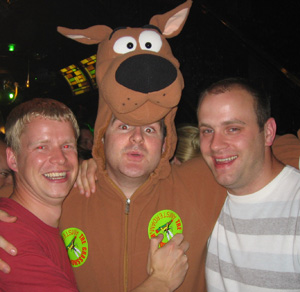 Most of the Stag Party has drinks, women to entertain and great food. To decide on starters for a stage party can be a great confusion. Partying hard can make a guy sweat and need for an appetizer is more. But considering the fact that the food isn't the main source of pursuit, it can be a bit complicated to plan starters at a stag party.
Planning for a Stag party
This can be a tricky task. Find out few tips to organize a stag party:
Social Media like Facebook helps coordinate such stag parties! This way you know who is joining the party.  Have a forum or a group set up for such activity, this helps to get he updates quickly.
To make such parties a big success, you need to play something unique like, go-karting, bungee jumping, rock climbing, Tank driving, Golf, quad biking, and many more crazy exciting activities.
Having themes the stag party can get overwhelming, dress as pirates, Golfers, etc, will add excitement to the party.
Tattooing can also be a fantastic idea.
Starters at a stag party
Arranging starters at a stag party will be a challenging role for the organizer. Below are starters listed to have on a stag party.
Chocolate Fountain
It might sound absurd, but a chocolate fountain adds an entertaining element to the party food table. Chocolate being the favorite flavor for most of us, it keeps the party flowing. Offer several different snacks for the chocolate fountain including large marshmallows, pound cake chunks, strawberries, pineapple, apple chunks, cookies, caramels, brownies, pretzels, cheesecake bites and crispy cereal treat bars.
Cocktail kebabs
These are made from cooked shrimps, garlic, cloves, onions, lemon juices and green olives.
These taste wonderful when had with drinks. The taste of ground beef with fresh ginger roots and chestnuts is loved by all.
Bacon draped dates
Slices of bacon are wonderfully wrapped and cooked with dates in a baking dish. The bacon becomes very tasty and is served with a spicy dip sauce.
These balls are rolls in chopped pecans and are then chilled. You can serve them with your favorite crackers.
Taco Cups
Create easy bite-sized tacos using scoop-style tortilla chips as the foundation. Refried beans, seasoned taco meat, cheese, salsa, sour cream, green onions and black olives will b used as a filling for these Taco cups. Place the sour cream in a pastry bag fitted with a star decorating tip used for cake decorating.
Any stag party will be incomplete until you serve some good appetizers and snacks.  Plan starters for a stag party with help of our ifood.tv.
Image credits: stagpartyideasblog.com 
What Starters To Serve For A Stag Party