5 Great Starters For Purim Party At Office
17 Mar 2011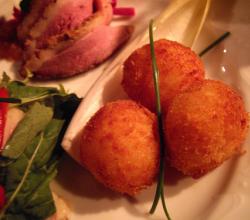 Looking for some mouthwatering starters for Purim party at your office? You are at the right destination. Every year these celebrations in offices are a common sight in the month of March. Food is an essential component of Purim holiday celebrations. We will share 5 great starters for Purim party at office.
Mini Deli Roll
Mini Deli Roll is a puff pastry that is savory. It can be prepared with a cottage cheese filling withe herbs or you can have a spicy lamb or ham filling. It can be prepared a day in advance. The original deli rolls have ham in it which is not favored in Kosher meals. Thus, the safest option will be to prepare them at home.
Chicken croquetts are an interesting option for the Purim party at office. The heat from the spicy chicken croquettes will perfectly complement the soothing salad. Chicken croquettes are deep fried and can be very heavy on the palatte thus, you should prepare small batches.
Latkes
Latkes are potato pancakes, which are one of the most traditional Kosher food. It is prepared with a mixture of shredded potato, flour, and eggs, which is shallow fried in oil. Latkes can be either sweet or salty. The savoury latkes are served as a side dish with the food. Sweet latkes are served with apples, cinnamon, and syrup.
Nachos With Eggplant & Avocado Dip
Nachos with eggplant and avocado dip is another interesting option. Nachos are readily available in supermarkets. However, if you wish to prepare your own, you can buy fresh tortillas and deep fry them after cutting them in triangular sections. The dip is simply prepared with roasted eggplant, avocado, lime juice, and salt. It is very rich so a small amount will last longer.
Lamb Kebabs
Lamb kebabs is an intense starter. It has an array of herbs and spices, which combine to produce a delicately aromatic kebab. Kebabs are mince meat patties that are char-grilled or roasted. It can be served with a mint and yogurt dip.
So, what are you  waiting for? Include these luscious starter for Purim party at office and have a great dining experience!
Image Credit; ifood.tv
5 Great Starters For Purim Party At Office