5 Smart Reasons To Include Spring Drink's In Your Party Menu

17 Mar 2011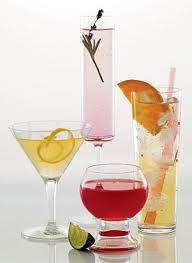 Spring is that time of the year when nature in its entirety seems to chirp and buzz into activity. As for us, we celebrate with all that is bountiful with best flavors infused in a spring drink – the ultimate refreshment beyond doubt. So, if you plan to organize a spring party and are wondering, whether to include springtime drinks or not, here are five smart reasons to include spring drinks in your party menu, which would banish all second thoughts without a trace.
Strawberry swig, Alabama fizz, Peach bowl, Cranberry smoothie, Cherry dreams…you just have to conjure up, when you are at the peak of spring fever and lo! It will come "swirling" before your eyes.
5 good reasons to include spring drinks 
The Bounty of Spring
The fresh bloom fructifying to delectable edibles such as fruits…juicy, succulent, with unrivaled flavors, juice up a spring drink. Your peach bowl with fresh slices of peach, peach-flavored brandy and a dash of champagne would give you a bit of fruity indulgence and so it is with other spring drinks springing from strawberries, cranberries, pineapples…fruits on a platter. 
The Flowery Touch
The spring festival symbolizes a riot of colors from the bosom of nature blossoming at every nook and cranny of mother earth. How about plucking a few petals to decorate your spring drink!The hibiscus cordial features hibiscus tea with a squeeze of lemon juice, ginger and water; white memories is another spring cocktail garnished with carnation petals; maiden's blush sports rose petals blended with sweet red wine and lemonade…the spring breeze from these blooms is sure to sweep you off your feet.
The Transition
The colors to thaw the ice: Equinox is believed to be the transition point from winter to spring- from the frigid to the warm- from the white to a spectrum of colors. These myriad hues represent change, which aptly suit   a social gathering. Your party may have hoards of guests and not all of them may be familiar with each other. So spring drinks with their splash of colors create a vibrant ambience, which can thaw even the "stiff-upper-lip".
The Health Refreshment
Fruits and flowers, squeezed or crushed bring out an essence that bear oodles of health. So spring drinks are not just refreshments to keep you chill in the warm weather but also a health-dose to keep you energized disallowing fatigue to set in (that might end you up binging).
The Appeal-To-All Factor
Be it the young or the old, man or woman, spring drinks appeal to all at a spring festival party. The non-alcoholic ones can also be favored by children and pregnant woman alike. So there is no seclusion when you decide to include spring drinks in your party menu.

A spring drink ideally coronates the spirit of a springtime party and the sense of togetherness is doubled when every guest of yours celebrates the colors by rising in toast with a colorful drink!
Image Credits: litm.com
5 Smart Reasons To Include Spring Drink's In Your Party Menu