What Foods To Include In Purim Dinner Party?

16 Mar 2011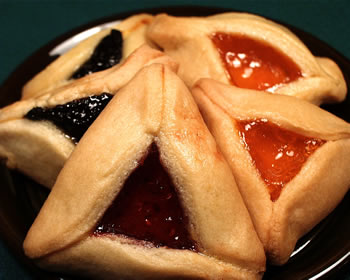 What Foods To Include In Purim Dinner Party?  Purim is grand festival for Jewish people, its fun and laughter all around. They enjoy the day by having fun, eating and drinking. Food baskets ( Shalach manot) are sent to friends and families. On this special occasion there are many foods you can include in the Purim dinner. Look into the various Purim food ideas to serve your guests and family.
Hamantashen- there is no Purim celebration without this recipe.
This is a triangular shaped recipe filled with various sweet options. Let's look into easy to make hamantashen to bake for Purim dinner. Eggs, oil, granulated sugar, baking powder, vanilla, pinch of salt, flour and assorted fruits filling are the ingredients required to make this recipe. Use electric mixer and combine all the ingredients except the fruit filling. After rolling it to 1/8 inch thickness, cut them to circles with a help of a round cutter or you can also use top of a cup or a glass. In each circle, place 1 to 2 teaspoons of filling in the center. To form a triangular cookie, pinch the three corners and pull up all the sides. Place them on cookie sheets to bake. Delicious Hamantashen is ready after 30 minutes.
Turkeyrolls with Mushroom Gravy as main course
Bored with chicken recipes? Feel meat is too high in fat. Ok Turkey will solve your problem. Prepare tasty turkey rolls with mushroom gravy for your Purim dinner. The ingredients used to make this recipe include turkey roll, onion, garlic, olive oil, ginger ale, paprika and spices. For gravy use mushrooms, flour, chicken soup mix, sugar and red wine.
Take a small dish and place the Turkey rolls on it. Apply oil, garlic, celery, bay leaves, onion and all spices to turkey rolls. Also add ginger ale to the rolls. Bake the rolls till it gets cooked. Allow it to cool and slice turkey after removing the vegetable drippings which you can use for the gravy. To the drippings in the sauce pan add mushrooms and cook. Add flour to get the gravy to the desired consistency. Finally add soup powder, wine and sugar. Cook well till the flavors are mixed well and then pour the gravy over the turkey rolls.
Peacock Vegetables
This baked vegetable recipe is wondrous to serve. You can also serve this refreshing dish along with meat. Now let check how it is prepared. It uses zucchini, yellow squash, yellow pepper, green pepper, red pepper, purple onion, garlic, minced parsley, olive oil, dried oregano, salt and balsamic vinegar. Toss zucchini, peppers, garlic, onions and squash in a bowl. Mix oregano, salt, pepper, parsley and vinegar in a tight container and shake well.  Pour this mixture over vegetables and toss. Bake for 20 minutes and make sure to stir the contents every 5 minutes.
These tasty Purim foods can be added to your Purim dinner to delight your guest.
Image credits: jewishmag.com
What Foods To Include In Purim Dinner Party?