Top 5 Goat Cheese Appetizers

15 Mar 2011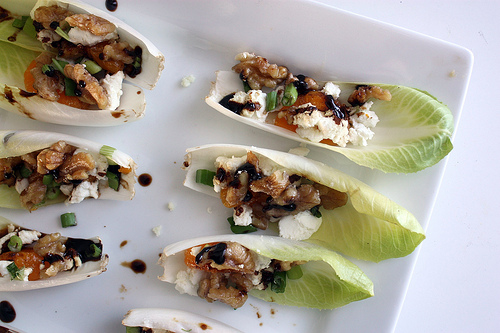 Goat cheese appetizers are an excellent way to initiate a newbie into the delectable world of goat cheese. Utterly delicious and versatile, these appetizers add a touch of novelty and transfer the simple goat cheese into a mesmerizingly rich delicacy. There are countless varieties of appetizers that can be made using goat cheese. Here I have listed the top 5 goat cheese appetizers that most cheese lovers would die for. 
You can use the simple goat cheese quesadillas as appetizers or just warm goat cheese and serve as an elegant start for a formal dinner. Drunk goat cheese is one of the best appetizers made using goat cheese, whose name itself can stimulate the taste buds. Read on to know to know more about such lip smacking delicacies... 
Beet And Goat Cheese Crostini
Goat cheese and beets get on like house on fire. The mild tanginess of goat cheese and earthy sweetness of beets gel perfectly. If you are running short of time, then choose canned, pickled beets as substitutes to fresh beets. This appetizer will be very much in demand among your guests.
Goat Cheese Spread
A simple goat cheese appetizer, this is made using sun-dried tomatoes, cream cheese, pesto, and flavored with Mediterranean spices and herbs. Serve this mind blowing spread with crackers or French bread slices.
Goat Cheese-Pecan Finger Sandwiches
Prepare this goat cheese appetizer using the creamy cheese and the crunch pecans. These sandwiches when served with wine act as excellent appetizer for a formal spring party.
Endive Stuffed With Goat Cheese & Walnuts
One of the most elegant appetizers, the marvelous companionship of mildly bitter endive, sweet orange juice and the creamy rich goat cheese, makes your literally drizzle. The simple presentation and the marvelous flavor render this simple appetizer a royal elegance.
Goat Cheese Tarts
A blend of savory and sweet flavors in the perfect proportion, this appetizer comes with a tangy flavor enriched with the creaminess of the goat cheese. The sweetened dried cranberries, glazed walnuts, and strawberry jelly render the perfect level of sweetness.
You can prepare goat cheese appetizers by spreading cheese on vegetables of the season or crackers. The next time you throw a party, include appetizers of goat cheese to add a royal touch.
Image Credit: sunshineandbones.blogspot.com, pardonmycrumbs.blogspot.com
Top 5 Goat Cheese Appetizers