How To Plan A Purim Dinner Party

15 Mar 2011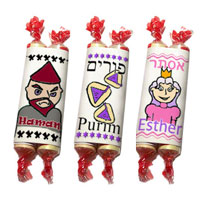 Purim is a special day to Jewish people. This day celebrates the victory of Jewish people from the Haman's plot. You can invite friends and throw a Purim dinner at home. It is a fantastic day that includes special costumes, different games, fun and laughter throughout. Jews have a grand celebration at this day by reading the Purim story, wearing Purim costumes, and eating foods like ozney hamam or hamentaschen that are exclusive for this day.
People send gifts that are called as Shalach Manot which contains two portions of food to another person. The portion usually contains food that can be consumed without any further cooking.  Fish, Meat, sweets, wine, fruit, pastry goods, and other beverage are sent on Purim as Shalach manot. Portions are sent to many friends as possible; it is praiseworthy to offer portions to poor than friends. Shalach manot are not sent directly to friends, it is sent through a messenger.
 Purim party ideas to bring in cheer and joy
Decorate the table to suit the happy mood on Purim. Do not crowd your table with too much of items as you need space to arrange the Purim dinner food.
Use plastic and paper plates, so that you can throw them after use. Buy colorful plastic plates, cups and napkins to give a festive look.
Decorate the house with Purim pictures and balloons. Play the Purim music when you start the Purim dinner to get into the mood.
For dinner, arrange breads and variety of dips like techina, eggplant, humus and avocado. Place Pickles and Olives on the table that are nice to taste.
Fresh vegetable salads such as sliced carrots, radishes, cucumber and other mixed vegetable salads with sweet pepper can be added to the table.
Offer many drinks to your guests like fruit flavored drink, carbonated drink and water. Wines are special for this day, provide different types of wines, especially semi dry and good dry wine is important for Purim party. You can also include red or white wines.
You can offer cooked potatoes with meat roast for main course. Baked chicken with mashed potatoes and peas are also good choice for main course.
Make sure to have Hamantaschen for your Purim dinner. Margarine or butter, sugar, orange juice, white flour, baking powder, cinnamon and many preservatives, pie fillings and fruit butter are used to make this recipe.
Besides Hamamtaschen, you can have all the shalach manot you received from your friends as desserts to your guests.
Throw a great Purim dinner and have fun with your friends. Besides celebrating the day, offer shalach manot to poor and needy to make everyone happy on the day.
Image credits: candytorahs.com
How To Plan A Purim Dinner Party