Top 10 Mardi Gras Punch Ideas

14 Mar 2011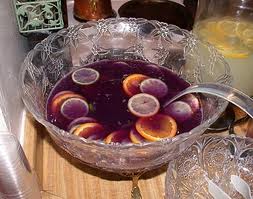 Mardi Gras punch are the quintessential part of all Mardi Gars celebrations. Mardi Gras is celebrated in honor of the last few days before the beginning of Lent. Mardi Gras is celebrated by most people irrespective of the fact whether they observe Lent or not. Mardi Gras parties are energetic ones with plenty of fun and food. Listed below are some Mardi Gras punch ideas that can be tried out during Mardi Gras parties for that extra zing.
Top 10 Mardi Gras Punch Ideas That You Can Try Out
Vegan Mardi Gras Punch – this is a delicious and refreshing vegan drink. Made of fresh juice like black currant, pineapple, orange juice and vegan ginger ale like Blenheim Ginger Ale. This punch looks and tastes even better with orange slices floating on the surface.
Mardi Gras Madness Punch – in order to make this Mardi Gras punch, you need an ice ring that is placed at the bottom of the punch bowl. 1 bottle grape juice, 1 can unsweetened pineapple juice, 1 bottle lemon soft drink, 1 fifty vodka, 2 oranges, 2 limes are added in order. Orange slices are floated on the surface.
Black Paloma – a crisp combination of Kahlua, tequila, grapefruit juice and lime juice this makes for a perfect Mardi Gras punch, though for people who like higher alcohol concentration in their punches.
Mardi Grape – SKYY infusions of grape, grapefruit juice, grape juice, club soda combined and stirred well. Served chilled.
Mardi Gras Red Rooster – this Mardi Gras punch is more of a cocktail than a punch. Infusions of raspberry , cranberry juice and orange juice combined and served with ice.
Southern Belle – light rum, dark rum, coconut rim, gin, pineapple infusions, raspberry liqueur, orange juice are combined and served chilled.
Beaded Lady – this Mardi Gras punch uses infusions of passion fruit, gin, lime juice, pineapple juice and soda water.
Hurricane – light rum, dark rum is mixed with lime juice, passion fruit juice and garnished with pineapples, cherries and lemon.
Mint Julep – this makes for an excellent punch idea for Mardi Gras. Bourbon, fresh mint leaves and super fine sugar is used. The cocktail has to be refrigerated and glass allowed to frost before serving.
Pink Orleanade - this pink to purple drink uses pink lemonade, mint leaves, lemon and Absolute New Orleans.
Some of these drinks are cocktails that are commonly served during Mardi Gras parties. Hope this list of Mardi Gras punch ideas can help you choose the drink for your Mardi Gras party.
Image credit: britta.com/ 
Top 10 Mardi Gras Punch Ideas