5 Good Reasons To Include Broccoli Salad In Spring Menu

12 Mar 2011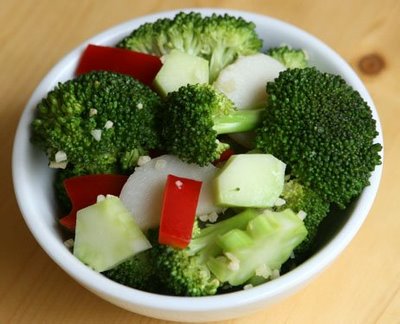 With the advent of spring, variety of seasonal fruits and vegetables becomes available in the market. This array in option of foods provides an ample choice to decide upon the spring menu. A festive mood is set with the preparation of variety of dishes including appetizers, salads, especially Broccoli salad, deserts and entrees. Also, seafood becomes a best option for many among us who are observing Lent.
In this way various spring-menu-ideas pop up to organize a great spring party. You can plan the spring menu as per your wish, but it would be incomplete without Broccoli Salad. There are many good reasons to include Broccoli Salad in spring menu, let's have a look on them.
Spring menu ideas with Broccoli salad, gives you an opportunity to enjoy the taste of different seasonal fruits, vegetables and nuts. A combination of it is used in sprucing the salad and making it different, every time you prepare. Broccoli with a cauliflower forms a great alternative; it adds a new taste to the preparation. Try it.
Spring menu with Broccoli salad is the best way to check the weight. We often tend to snack on variety of preparations while enjoying the spring. Amidst all these, if we snack on Broccoli salad, it will give a feeling of fullness as its rich in fiber. So, while enjoying the spring, you will also keep a check on weight by eating Broccoli salad.
There are various recipes to make Broccoli salad. Further, Broccoli is used in different ways; it's a versatile vegetable that tastes good in different forms viz. steamed, boiled, grilled or roasted. On the other hand, it is too tasty if, eaten raw as a salad. Usage of cheese, mayonnaise, bacon and many other ingredients makes the Broccoli salad more delicious. Thus, inclusion of Broccoli salad in spring menu will give you a chance to explore your culinary skill and tweak the recipe of Broccoli salad, so that you enjoy it as a snack or as a side dish with fish or meat… both forming a great option.
The rich nutrient composition of Broccoli is the best reason to include it in spring menu. It's rich in Vitamin C, which promotes the absorption of iron in the body, fights against cataract and cold. With its rich content of folic acid, Broccoli forms a great food for pregnant woman. Calcium and Potassium present in it, helps with osteoporosis and blood pressure, respectively.
Once prepared, Broccoli salad can be safely stored in refrigerator for 2 to 3 days. So you get a chance to enjoy it at home with different meals or take it to the picnic. You can include it in a party menu or pot-luck, it will work every where with variety of dishes.
The above mentioned 5 reasons are more than sufficient to include Broccoli Salad in your spring menu. So, try for different recipes of Broccoli salad and make your spring more festive and healthy.
Image Credit: picksoverpeas.blogspot.com
5 Good Reasons To Include Broccoli Salad In Spring Menu