5 Superb Side Dishes For Your Spring Parties

12 Mar 2011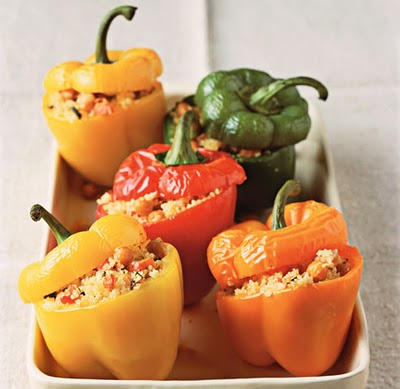 Spring parties are ideal scenarios for people who love to show off their culinary and hosting skills. Planning spring party food items is as exciting and fun as enjoying the party. There is a delight in finding the right food items that gel with the mood, at the same time fit into your budget. Planning a spring party adds to the enthusiasm because it allows you to reap maximum benefits of the fresh fruits and veggies while preparing dishes. These are few enticing side dishes which you can prepare for enthralling your guests.
1. Stuffed Peppers
You can stuff Peppers, green, yellow or red, in various ways. This classic recipe is ideal for spring parties, because it is completely vegetarian and very delicious also. The stuffing made using onion, olives, garlic, bread and anchovies and simmered slowly over the oven adds to the flavor of peppers. Top with a tomato sauce of your choice and serve hot with Italian bread.
2. Dill Green Beans and New Potatoes
Fava beans are a springtime vegetable and this is the time when new potatoes take birth. Wash and trim the tender green beams. Mix fresh red potatoes and fava beans and cook to a crispy texture. Now blend with garlic and dill. Drain excess water, add sour cream. Toss well and serve warm. The marvelous dish is a true reflection of the season of colors.
3. Braised Spring Legumes
This is distinct vegetable side dish that is cooked by blending various seasonal veggies and topped with fresh mint leaves. Cook the onions and scallions and then add green peas, zucchini, red pepper and fava beans. Season using salt, romaine and mint. Avoid overcooking to prevent the vegetables losing their tender and crispy nature. Serve hot as a yummy side dish with brown rice or with a bread of your choice.
4. Fried Sage & Mushrooms
Sage and mushroom are not a very common combination. This is a different, yet delicious dish and looks very appealing to your eyes also. The unique blend of sliced and toasted mushrooms with angel hair pasta, butter, garlic, pepper, salt and fresh sage leaves render a luscious aroma to the dish, making it a tempting side dish.
5. Spinach Patties
A 100% vegetarian patty, spinach patties can be served as a starter, snack, entrée, breakfast as well as side dish, showcasing that it is a very versatile dish. Made using the fresh spinach and a delectable combination of seasonal veggies including potatoes and peppers and seasoned with fresh herbs, this patty can be eaten directly from the fridge or hot. Serve with a dollop of sour cream or yoghurt.
Now, while throwing spring parties, check out these vegetarian dishes to make a difference.
Image Credit: Realgreekrecipes.blogspot.com, Drsuetalks.blogspot.com 
5 Superb Side Dishes For Your Spring Parties