5 Delicious Northern Irish Foods For St.Patricks

10 Mar 2011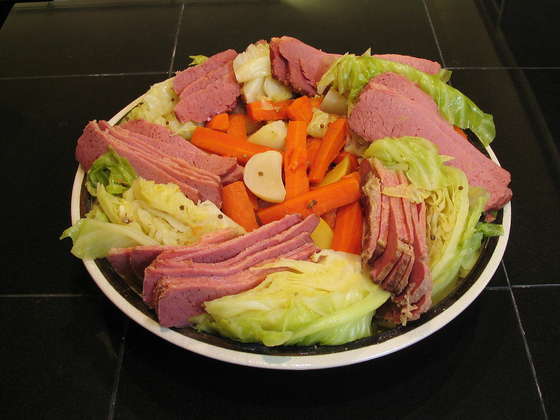 St. Patrick's Day and Northern Irish food is something that can't be separated. As we all know, St. Patrick's Day is celebrated annually to commemorate the life of St. Patrick, the patron saint of Ireland. It is celebrated by both the Catholics as well as non-Catholics. Various popular Irish foods are prepared to celebrate this occasion every year on March 17. Northern Irish food, with its well placed traditional roots, becomes the cuisine of choice during this celebration. So here is a sneak peek at 5 of the most delicious Northern Irish Foods for St. Patrick's Day. 
Corned beef and Cabbage
One of the most delicious and popular Irish foods is Corned Beef and Cabbage. St. Patrick's Day celebration is incomplete without Corned Beef and Cabbage. It is relished by everybody and even you can enjoy this to celebrate this special occasion. 
Irish Soda Bread
Irish Soda Bread is a delectable Northern Irish food which is served every year on St. Patrick's Day celebration. Unlike other breads, the soda bread is prepared by using baking soda instead of yeasts. Wholemeal or white flour is used in preparing the soda bread. This Irish soda bread is of different shape, either in the form of loaf, griddle cake or farl.
Apple Mash
Apple Mash is a popular Irish food that is always prepared for St. Patrick's Day celebration. This preparation comprises of savory apples along with mashed potatoes, which are yummy in taste.
Bangors and Mash
Bangors and Mash is one of the most relished Northern Irish foods. As I mentioned in the very beginning that everybody gets Irish on St. Patrick's Day celebration and in this process, this delicious preparation make the occasion perfect Irish. Bangors and Mash comprises of mashed potatoes, which can be bit lumpy along with cheese and Irish sausage. This is Irish in taste and a perfect food to celebrate St. Patrick's Day.
Beef and Guinness
If we are talking about popular Irish food for St. Patrick's Day celebration, then we can't forget the great Northern Irish food – Beef and Guinness. Everybody enjoys this recipe on St. Patrick's Day celebration. Beef and Guinness is an Irish stew. The main ingredient of this Northern Irish food is beef which is slowly braised in Guinness stout.
These were some of the popular Northern Irish foods, which you can prepare and celebrate on this St. Patrick's Day. So, what are you waiting for, go for it and celebrate this occasion with some lip smacking Northern Irish food.
Image Credit: instructables.com 
5 Delicious Northern Irish Foods For St.Patricks