Top 5 Green Cocktails For St. Patrick's Party

9 Mar 2011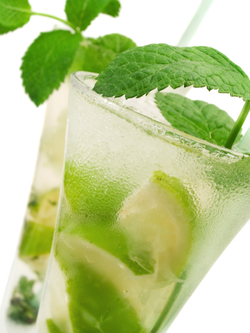 Green cocktails make exotic drinks for St. Patrick's Party or any other party where you plan to serve some refreshing cocktails to your guests. In case you are running short of ideas, here are the top 5 Green Cocktails for St. Patrick's party which are not only easy to prepare, but make some really tasty drinks which are very difficult to resist. So, check out some of the best green cocktail recipes which you can include in your party this year!
Ninja Turtle– This is a sweet and very fruity cocktail which is prepared with Gin, blue curacoa and orange juice in equal quantities. However, if you desire to have the taste or tang of any one ingredient more than the other, you can easily choose to include it in more quantity, to get the desired flavor.  One of the favorite green cocktails in any party –Ninja Turtle is prepared by adding blue curacoa with gin in a glass that is half filled with ice. You can then add some orange juice, stir and serve in your party.
Zen Master– This is another refreshing green cocktail which is prepared with zen green tea liqueur, vodka and cucumber slices. Before you choose to serve this drink, you need to surround the inside base of the rock glass with some fresh cucumber rings. You can easily add some ice and then slowly pour some ice. Lastly, top it with zen and serve.
Green Haze – This interesting green cocktail is a delicious blend of juice and gin. It is prepared with Hendricks gin, 1 shot of De Kuyper Crème De Menthe and some fresh pineapple juice. To prepare this green cocktail, you can fill a cocktail shaker with ice and add de kuyper crème de menthe and gin. Remember to shake the jar well before you pour it in a martini glass. Lastly, you can top it with some pineapple juice.
Russian Spring – Whenever you feel thirsty – just sip in Russian spring. It is truly one of the most refreshing and thirst quenching drink with a smooth sweet taste. It is prepared with Russian standard vodka, de kuyper crème de Menthe, apple juice and at least 3 shots of soda. To prepare this green cocktail, you will first have to add all the 3 ingredients and ice in a shaker and shake them well. Once done, you can slowly strain the vodka in a high ball glass which is half filled with ice. Add some soda and stir well. Russian Spring is one of the few green cocktails which is present in almost all the parties and is quite preferred by the youngsters too.
Cacktus Jack– This is best described as an explosively fruity drink prepared with tequila, de kuper blue curacao, orange juice, pineapple juice and lemon juice. Just before serving this green cocktail, you need to shake all the ingredients together with ice and serve.
With such great ideas to prepare cocktails for St. Patricks day, I can promise your event's gonna be the talk of the town for sure
Image credits: ctgreenscene.typepad.com, hotmomsclub.com
Top 5 Green Cocktails For St. Patrick's Party