Use Bento Lunches To Prevent Unhealthy Snacking
16 Feb 2011
Use Bento Lunches To Prevent Unhealthy Snacking! The suggestion is applicable to all those who want healthy snacks in their lunch boxes, minimize preparation time, fond of variety of dishes and want to make snacking fun, nutritionally sound and environmentally friendly.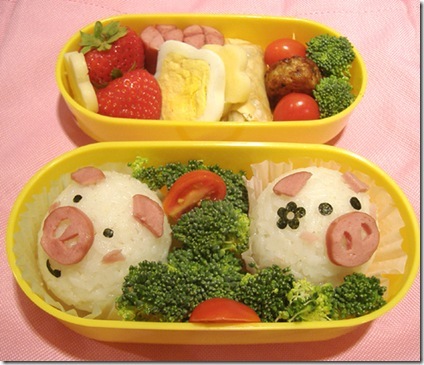 Bento lunches prevent kids from unhealthy snacks: Thanks to sporting popular cartoons, Betty Crocker's Fruit Roll Ups or Pepperidge Farm's Goldfish Crackers are some of the lunchroom treats every school-going child would like to have in his lunch box. These unhealthy snacks, made of empty calories and very less vitamin supplements, are widely sold at grocery stores. This will encourage nothing but unhealthy snacking. To keep away such calorie-rich unhealthy snacks from your toddlers, you need to introduce trendy and colorful bento lunches with healthy snacks.
Bento lunches attract everyone: Bento lunches not only attract kids towards fun eating but also lure adults to have balanced and healthy snacks. Bento lunches are for portion control and convenience. Adventures in Bentomaking's blogger, Crystal Watanabe says, "Bento lunches allow adults to eat 600 to 900 milliliter boxed lunches, while little kids usually eat 400 to 600 milliliter boxes."  That's why Laptop Lunches offer bright-colored bento lunches with individual containers of different sizes to cater to everyone's needs. Several carrying container options are available and one such allows an adult to carry a choice of bento lunches, a beverage and healthy snack such as soup.
Why to choose bento lunches? When there are hundreds of inexpensive varieties available on lunch boxes, the question may arise why are bento lunches considered the best. The answer is simple – each one of us is attracted to nice presentations.
No messy food in Bento lunches: Moreover, its different compartments enable you to keep food of different textures separately, especially for elementary school kids, as messy and soggy food discourages them from eating. Serving food in Bento lunch boxes, which come in different shapes, designs and colors, appeals to you as well as your child's picky eye and prevents from unhealthy snacking.
Bento lunches can minimize prep time: It is not possible to make a new dish every day for lunch and having exactly same thing for multiple times. So, transform your leftover foods into different dishes and serve them in Bento lunches. Moreover, bento arts prevent kids from insisting upon cartoon inspired junk snacks.
Ideas for using leftovers for Bento lunches: Bring home some stylish bento lunches and keep pan-fried risotto cakes made of last night's left over zucchini risotto. Pair it with deep-fried rice balls mixed with cheese, meat, or vegetables and a fruit, your toddler love to have in his bento lunch box. Similarly pasta frittata could be made from leftover spaghetti and can be paired with sauteed orange bell pepper with garlic and soy sauce, and green grapes. What a healthy and time saving option over unhealthy snacks – isn't it? Learn how to make a bento box here.
Now you know the benefits of bento lunches and how it prevents you from unhealthy snacks and encourages you towards healthy snacking options, go and buy one each for your family and follow a healthy lifestyle.
Image Credit: dailycuteness
Use Bento Lunches To Prevent Unhealthy Snacking