How To Celebrate Chinese New Year Trinidad Style

9 Feb 2011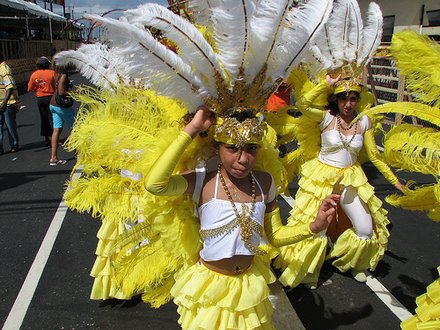 Chinese New Year is not what comes to your mind when you think about the Caribbean island of Trinidad. But it is celebrated in style there as well.Let us see how....
Chinese Food Culture
Chinese New Year here is enmeshed with Trinidad and Tobago culture. In the 19th century Chinese first entered the islands as indentured laborers, they too became part of the population that include Europeans, Indians, Africans and Syrians. Chinese food had great influence in the island, so even after the departure of the indentured laborer, Trinidad's Chinese started to own grocery stores in the island. Chinese cooking methods were continued with other available local ingredients in the island. However some of the cooking methods remained the same like the steamed porked buns which is called  'pow'  is very similar to the steamed porked buns made in Hong Kong with the name 'bao'.
Celebration
Celebration of Chinese New Year in Trinidad is elaborate. If you visit Trinidad, you can easily get Chinese food like fried rice, chow mein, taro root and much more. And of course bao which is a regular Chinese food. Red bean cakes called chinee cake in the Island and other Chinese sweets that are made in traditional style adds more spice to the celebration. But you can find the Caribbean mixed essence as the common flavoring which is important for baked goods and sweets.
Further the cookies and cakes supplied by the standard bakeries are not only popular in Trinidad and Guyana where there is lot of Chinese food  influence but also in some of the West Indian areas of Toronto, London and New York.
Through out the island you can find Chinese New Year good luck symbols in the retails stores. Parades of dragon dances held by several Chinese associations are present throughout the island.
It is great to taste the Trinidad Chinese foods that are sweeter than the American Chinese fare. One  special inclusion is the addition of rum to food instead of rice wine.
Celebrating life is part of Trinidad's culture and Chinese New Year is just a way of reinforcing it. 
Image credits: mentalfloss.com 
How To Celebrate Chinese New Year Trinidad Style