Top 5 Vegan Dinner Ideas For Valentines Day

7 Feb 2011
Vegan dinner ideas for Valentines Day are always hard to think about. You want to make this dinner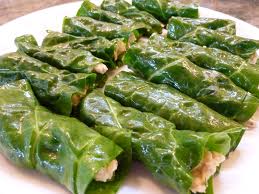 special for yourself and your spouse, and thus want to include all those special items in the  menu. However, dinner ideas for Valentines Day becomes difficult to decide on if you and your spouse or either one of you is a vegan. It is not true that vegan dinner ideas are limited but what top five vegan dishes will you choose for the special Valentines dinner is something to ponder upon.
Top five vegan dinner ideas for Valentines Day:
Appetizer– Appetizers play a very important part when you are planning your dinner. They are like the trailer before you watch the movie. If the appetizer is tempting then the whole Valentines dinner is sure to go for a hit. So, one needs to think and carefully choose a vegan appetizer which should not be very heavy and at the same time should be full of robust flavours giving a hint of what is to come up next. So which appetizer should we pick up? According to me 'Dolmas' or 'Dolmades' are a perfect selection. These grape leaves wrapped appetizers tingles your taste buds. They have a filling of rice, fresh herbs, vegetables and nuts and are perfect for the occasion.
Main course – After you have set the appetite with the amazing Dolmas, it is now time for the main course. Few vegan dinner dishes that can make your Valentines dinner special are: butternut squash enchiladas with salsa, mushroom, pea and asparagus risotto and leek and corn stuffed peppers. The butternut squash enchilada with salsa is just the right choice if you love Mexican. This enchilada has a filling of sweet butternut squash with other Mexican spices and is topped with tangy salsa sauce. This is a perfect balance of sweet, spicy and tangy taste. Compared to the enchiladas, the risotto is totally opposite in taste. The rsisotto has a creamy consistency and along with the mushroom and peas gives you a subtle flavour. The leek and corn stuffed peppers on the other hand is a great side dish. It can accompany any kind of main dish you are serving for the special Valentines dinner. Full of flavour and colour, this side dish is a must try.
Dessert – Here comes the best part of the meal. After a heavy dinner one should plan for a dessert not so robust and yet satisfying. Strawberries covered with chocolate sauce are a great choice. The fruity flavour of the strawberries blends perfectly with the rich flavour of the chocolate and is a whole new experience one must savour. If you do not wish to try out such a simple dessert then go for the delicious apple pie. This rich apple and cinnamon flavoured dessert is a perfect end for your special meal.
So, try out these dinner ideas for Valentines Day, and make it special.
Image credit: foodsforlonglife.blogspot.com, ifood.tv
Top 5 Vegan Dinner Ideas For Valentines Day