Top 5 Quick And Easy Picnic Foods For Valentines Day

7 Feb 2011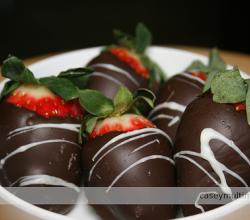 Valentine's Day is fast approaching and instead of doing the clichéd thing like going to a restaurant or cooking a romantic dinner at home, why not make some picnic foods and go out to a park or the countryside and spend a day alfresco with your loved one. So definitely do this fun activity with your sweetheart and prepare well in advance about what you would like to nibble on.  Picnic foods should typically be easy to make, easy to pack and carry with you and of course tasty to eat. This particular picnic is for a special occasion so savory foods and sweet cupcakes are ideal.  Read on for tips...
Ideas for Romantic Valentine Picnic Foods
Picnic fruit salad recipes are easy to prepare and don't take too much time. This can be used as an appetizer; it is not only colorful and charming to look at but is healthy too. You can drizzle some chocolate sauce and whipped cream on top of it to give it that extra oomph.
Black Bean Wraps are an ideal pinic food as they don't get soggy when made and stored in a basket and really you can stuff the wrap with whatever suits your fancy. It is fast, quick and easy.
Chocolate covered strawberries are a must for this picnic. Simply melt some good quality chocolate in a pot, dip the large sized strawberries in them and then cool them in the freezer so the chocolate freezes over the fruit. Take them out just before leaving.
Pasta Salad is another fast recipe that is not too difficult and you can put whatever veggies you like eating and simply mix it up with some mayo or homemade dressing.
Cupcakes with some heart shaped icing on it for décor will add an extra special touch to this much loved dessert.
So there you have it, delicious, easy to make savory romantic foods that are not only pleasing to the eye but also great in flavor and taste. Hopefully this has motivated you to try an outdoor picnic for Valentine's Day. Don't forget to take a blanket with you just in case it gets a little cold or if you would simply like to snuggle up afterwards, take another sheet to lie out on the grass that you can sit on. You don't want ants and other creepy crawlies bothering you while you eat. Last but not the least don't forget to check on the weather and make sure it's going to be nice and sunny.
Image Credit - ifoodtv ; ifood.tv ; ifood.tv 
Top 5 Quick And Easy Picnic Foods For Valentines Day