How To Plan Romantic Dinners At Home

5 Feb 2011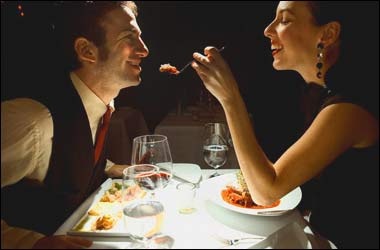 If you wish to spend some romantic moments with your partner this Valentine, you need not always go out to have food. You just need to know how to plan romantic dinners at home and enjoy some special moments. In fact, why just Valentines day – you can arrange romantic dinners at home at least twice a week or every weekend and make it special. You will love these romantic meals, will be having good food and will save a lot of your restaurant bills too. So, here are some ways of arranging romantic dinners at home.
You need to first decide what you are going to prepare! It is always recommended to prepare meals of your partners choice to make the occasion even more special. In case you do not have ideas or your partner loves any kind of meal, you can prepare delicacies of shrimps and steak. These truly make some romantic meals at home. You just need to prepare the marinade well and cooks the shrimps well, preferably on a skewer.
When you are planning romantic dinners at home never cook too many dishes, as it shall spoil the fun and mood. It is best to prepare just one main course dish, one side dish and desserts. Try not to include appetizers in your romantic meals as these often spoil the mood of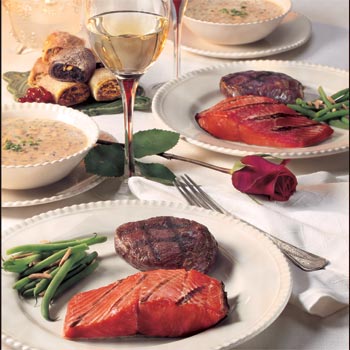 the dinner. Men normally love hearty dinner – so, if you are cooking for your man baked potatoes and salads are a must. Men do not love fancy meals – so do not waste much time over fancy side dishes. If you are preparing romantic meals for your lady, cook something light but delicious. Chicken stew might seem boring but women love to have stews and soups.
Do not forget to plan for desserts and drinks which are a must after dinner when you are planning romantic dinners at home Chocolate mousse can be a real romantic option after a spicy dinner. Champagne can make any evening special – do not forget to include these in your romantic dinners at home.
If you are planning romantic meals at home and especially during Valentines Day, you need to set the mood of it. Arrange flower bouquets with as many roses as possible, since roses are always considered to be a symbol of love and romance. Candles are a must to make the mood flowing – arrange them on your dinner table along with the food you have prepared. Once done, you are completely ready for your lovely romantic date with your partner. 
Image credits: cookdays.com, thetavernonthesquare.blogspot.com
How To Plan Romantic Dinners At Home