Top Five Party Finger Food For Valentines Day
4 Feb 2011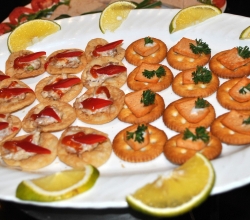 Throwing a Valentines Day party is the most romantic way to recreate the passion and intimacy between you and your partner. The party finger foodfor the D-day party will keep your stomach on a light note, while adding that extra touch to this special moment. The impressive array of party starters comprising of lip smacking finger foods can grip anyone`s emotion. Party finger food items entail tantalizing mix of flavor and taste. So let's catch a glimpse of top 5 party finger food items which can titillate anyone's senses.
1. Chicken Nuggets dipped in honey and topped with mustard sauce - Chicken nuggets is the most delightful party finger food. The even coating of boneless chicken fats with batter of flour, salt, and pepper fried to the point of ruddy makes a palatable start for Valentines Day party.
2. Sherrie stuffed mushrooms - One of the most romanticized food of today is mushroom, which paints the picture of unmatched taste coupled with enigmatic smell (well, some of the mushrooms, like truffles, are also known for their strong sense of perfume and aphrodisiac properties). Sherrie stuffed mushroom is an ideal party finger food since many people acknowledge the health benefits of mushroom.
 3. Special Valentine Chocolate Fondue – A party finger food like none other, no one can resist the indulgence into chocolate fondue to spark the ambiance for Valentines Day party. Moreover, this can be shaped at home without any fuss. It is made by melting chocolate and teaming it up with cream and salt. Some supplements like banana, strawberries, apricots, ginger, and vanilla can be tagged in to give that extra sense of style.
4.  Pumpkin pie- Well, Pumpkin pie has been researched as popular aphrodisiac. To enliven the spirit of lovers on lover`s day, this is the best bet as party finger food. When tagged with variety of condiments and spices, greased with butter, this could be the great idea to binge in.
5. Pineapple Cake - A Valentines Day party will never be complete and satisfying without cakes, the most popular choice as a party finger food. Cake renders lavish treatments to party. The twinge of romance must be felicitated with love and affection.
 Definitely these light and jaunty spreads are apt to start a party with fun and end with frolicsome atmosphere. Party Finger food items serve as an awesome choice for snacking amidst the meals too. Any one will be surfeited with such overabundance of treat. One should give a great start with these top five party finger food items to make this Valentines Day party a memorable one! 
Image credit: ifood.tv
Top Five Party Finger Food For Valentines Day