Karnataka Cuisine
23 Jun 2008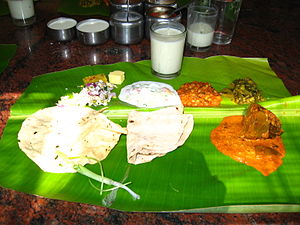 The following are typical items in a typical vegetarian Northern Karnataka meal :
South Karnataka Cuisine
The South Karnataka Cuisine can be primarily found in the southern districts of Karnataka, such as Kolara, Bengalooru, Mysooru, Tumakooru, Mandya, Haasana, Chamarajanagara (Byaluseeme meaning the plains)etc. Excepting the usage of ragi mudde, most of the dishes are common to households in the adjoining districts such as Bangalore, Mysore, Tumkur. A meal, be it breakfast, lunch, or dinner, includes ragi mudde, which is a round ball made by boiling raagi or millet in water; hurali saaru, a spicy soup-like dish made from horse grams along with a variety of Indian spices; or bas saaru, another spicy soup-like dish made from the broth of lentils and spring beans; kempanna, or boiled red rice, and mosaru or curd. Farming is the means of livelihood for villagers of Kolar; the consumption of light, but energetic food in the form of ragi provides the stamina for this. The farmers generally eat 2–3 ragi balls for lunch, and make do with the disposable leaf from the blue agave found in abundance as fences in the fields. The Hilly district of Kodagu (Coorg, as British Called) also has its own unique cuisine which includes spicey meat (Pork, Pandi Curry, Chicken, Mutton), Kadumbutt(Round balls made up of rice), Paputt, Thaliyaputt. The spicey meat curries derives a tingy taste from a local vinegar kachampuli.
 Some common vegetarian dishes prepared on a regular basis are:
  Lunch served on a plantain leaf
Rice dishes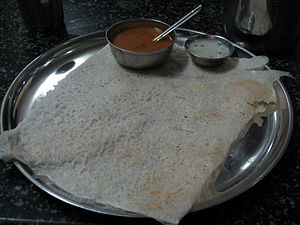 Neer Dose, an authentic dish of Karnataka served with chutney and sambhar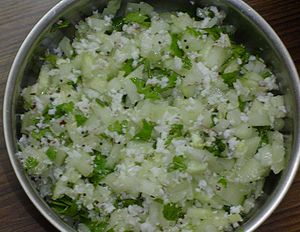 Kosambari made of cucumber
Kosambari is a unique Kannadiga dish resembling salads and is prepared using simple ingredients such as lentils,green chillies and finely chopped coriander. The dish is generally finished with a tempering of mustard seeds and asafotida. Common variants include kosambari made with the above ingredients in addition to grated cucumber or carrot.
Sweet & Spicy dishes
Dharwad pedha
Kaayi holige or obbattu
Hesarubele ot the Mungbeans
Kadalebele or Chick peas
cashew, almond and other nuts.
beLe Obbattu - made from lentils or chana
Kaayi Obbattu - made from coconut, or peanut in northern karnataka
haalu-puri - from milk sugar and floured batter.
sajjige - boiled semolina sweetened with sugar or jaggery and mixed with cooked fruits like banana or pine apple
sakkare achhu - little sugar statues/toys made during Sankranti
Haalubaayi - marinated rice ground with jaggery and coconut to form a semi solid that melts in the mouth.
sheekaraNi - pulp of ripe fruit (usually mango or banana) with additions such as sugar, elakki, jaakayi/jaapatri, milk,etc
Damrottu - From sweet pumpkin
Sweet Pastries - The following can be grouped together. These are often accompanied by milled sugar, and/or warm milk flavoured with saffron and almonds.
mandige - huge flat leavened pastry. It is quite a treat to watch chefs making large (>36 inches in diameter) pastries with bare hands and baking them on upturned clay pots over fire.
shaavige chiroti - vermicelli pastry.
kesaribhath - rice (or semolina in southern karnataka) cooked with sugar/jaggery, cardamom, saffron, milk, dry fruits, and sometimes fresh fruits like banana, mango and pineapple.
Pickles are usually raw seasoned vegetables & sea food, but there are cooked varieties as well called Bisi Uppinakayi(hot pickle). The seasoning varies from plain salt to spices like green chilli, red chilli powder, black pepper, whole and powdered mustard seeds, coriander seeds, etc. They significantly differ from North Indian pickles or achar in that considerably less oil is usually used in the pickles; salt is the main preservative.
 Snacks
Vadey - Ambode, Sabbakki vadey, Bele vadey etc.
baaLaka - deep fried vegetable & fruit chips or wafers. The vegetables are usually dried and seasoned with spices, and even butter milk. Common candidates are potato, sweet potato, yam, cassava, ripe jack fruit, banana, plantain, chilli, varieties of suitable green bean pods (usually gori kaayi/chaLLe kaayi), etc.
 Non-vegetarian dishes
Udupi cuisine takes its name from Udupi, a city on west coast of Karnataka. Udupi cuisine has its origin in Ashta mathas of Udupi founded by Shri Madhvacharya. Its core is a vast range of creative dishes emphasizing local vegetables and fruits.
Although many refer to the malenadu cuisine as an amalgam of Coorgi and Mangalorean cuisine, it has its own distinct style. The word "Malenaadu" means "land of mountain ranges". The cuisine is heavily influenced by the variety of fruits and vegetables available in the rich forests of western ghats. The ingredients like tender bamboo shoots, colocassia leaves, turmeric leaves, raw jackfruit are easily found in the Sahyadri ranges. Steaming is a favored the method of cooking in malenaadu. More often than not there is minimal use of oils in malenaadu cuisine.
voththu shaavige with ghasghase paayasa or kaayi haalu - Steamed rice noodles with a sweet payasa or sweetened coconut milk.
votthushaavige uppittu - Steamed rice noodles stir fried with oil, mustard seeds, onions, green chillies and curry leaves.
akki rotti - rice rotti / flat bread made with rice.
Bamboo shoot pickle -Kalule` uppinakayi
Bamboo shoot curry - Kalule` palya
Halasina haNinna dose - jackfruit dose
Akki Tari Kadabu - breakfast dish made with broken rice.
Gangala dose - steamed dosa
Angu or Thode-daaga - very thin sweet crepe made with a thin batter of rice and jaggery.
Kaayi Holige - a dessert made with fresh coconut ,jaggery and maida.
Haalu Payasa - rice pudding, falvored with turmeric leaves and cardamom.
Haalu Hittu - semi-soft milk pudding made with milk, rice paste and sugar.
Kesina Soppina Palya - A side dish prepared using colocasia leaves as the main ingredient. Served with akki rotti.
Thumbuli - a cool saaru usually made in summer using yogurt, ginger, pepper and other spices. Served with steamed rice.
Maaldi - a coarse cereal made from ground whole wheat, jaggery, black til and other ingredients. Usually served in a bowl with either milk or ghee.
Aralu pudi - a rice cereal made of ground toasted / puffed rice, sugar etc. Usually served in a bowl with warm milk. This cereal is also used as a filling in a special dessert called hurulu kadabu.
Hoorulu kadabu - A traditional dessert made with aralu pudi, jaggery, coconut and other ingredients. The mixture is shaped and steamed in turmeric leaves.
Kaadu mavina haNnina saaru - a sweet and sour saaru made with whole tiny ripe mangoes. Served with cooked rice.
Kodagu's staple food is rice. Traditional dishes include
Coconut is widely used in the mangalore cuisine. Traditional dishes include
Manni is a traditional dessert made of rice, coconut and jaggery. It can also can be made of various flavours such as vegetable
The Navayath Cuisine can be primarily found in the coastal districts of Karnataka, mainly in Uttara kannada and Udupi. Rice, coconut, sea food, eggs, poultry, and mutton are widely used in the Navayath cuisine. Traditional dishes include
Ambut Lukha or fish curry prepared with coconut and spices.
Chambat Poli or flat rice pancake prepared by spreading batter on banana leaves and roasting on griddle with little oil . Usually served with mutton curry,
Navari, a special dish prepared by spreading rice batter with coconut filling stuffed in turmeric leaves. Filling may be sweet or spicy and cooking may be by steaming or by roasting on a griddle.
Shaofa pana appam, A soft thin pancake made of batter of rice, coconut milk and fennel leaves
Mudkule Rice dough cooked in Prawn curry.
Bhatkal Biryani, made of fish, shrimps, chicken or mutton with rice. It is famous globally.[citation needed]
Bhatkal halwa
Mushroom curry from seasonal natural mushroom from nearby forest is a delicacy during monsoon.
Shinonya Nevari is a preparation of rice and coconut batter filled in mussels with spices and steamed like idlis.
Karnataka Cuisine