So You Thought Waffles Are Only For Breakfast?
26 Jan 2011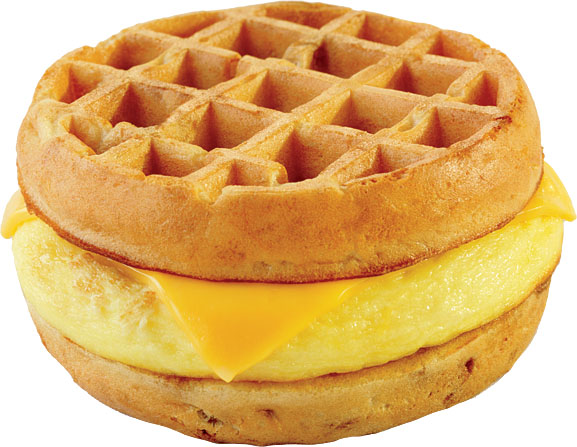 Who would have thought the notion 'waffles only for breakfast' will also be challenged. Breakfast be damned. Looks like waffles are not only for breakfast. In a world constantly in demand of ideas, food or otherwise, the new innovation is to put waffles to better use and make it transcend its breakfast barriers.
Grilled Nutella waffles, waffles with all kinds of fillings from cheese to chocolate, or do you fancy a waffle sandwich? If you happen to be in Glendale, you will see all these waffle based specialities at the Goffles Waffles eatery at the Glendale Galleria. Goffles Waffles is a tiny little waffle place located on the third floor of the Galleria that serves up all these specialities.
So their famous Grilled Nutella waffles that Goffles Waffles sell for $3 qualify for dessert? Decide that for yourself. They stuff the waffle with Nutella by folding it into half and further adding fillings like cheese or peanut butter in the middle. Now that should give you a sugar rush. If not, you can go for the Waffle Stix for $2 with fillings including chocolate, cinnamon, cheese or ham. They are not as sweet as the grilled ones with fillings but fun to eat, nevertheless.
Coming to the sandwiches, if you fancy eating a waffle sandwich just ask. The waffles transform into a 5-inch square sandwich and will be loaded with your choice of meat namely roast beef, turkey or ham, cheese, onions, lettuce, pepper, cucumber, tomato and pickles. You can select the dressings, just like you would do at a Subway. Their dressings range include ranch, mustard, olive oil or mayo. And, before I forget, their sandwiches are called Sandffle.
So there you go, now you know waffles are not only for breakfast. They can be either pushed to the end of your meal in the form of a dessert or be had as a meal itself in the form of a sandwich. So the breakfast king is successfully dethroned. What next, pancake sandwich? I wouldn't be surprised one of these days I stumble upon a joint that serves eatables inspired by pancakes or say, crepes. 
Image Credit: doobybrain.com
So You Thought Waffles Are Only For Breakfast?