Top 10 Appetizers for Superbowl Party
17 Jan 2011
When you are planning to organize a Superbowl party at your place, then you should have this information on top 10 appetizers for Superbowl party. While preparing the superbowl party food, you must keep in mind that they should be really crunchy, crispy and delicious; because, only these appetizers can produce the right mood and spirit for the Superbowl party.
Top 10 Appetizers for Superbowl Party
1. Homemade Salsa – A salsa is must for the Superbowl celebration and when you prepare this at home, it becomes even more attractive. If you can manage to get fresh, ripe tomatoes then nothing can beat that; otherwise use canned tomato to get almost the same taste.
2. Chicken Wings – One of the most favorite appetizers for Superbowl party is the chicken wings. Use your choice of marinade to make them unique. You can make them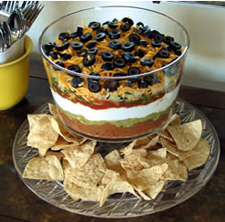 really hot by using lots of pepper or can add sweetness by using honey.
3. Seven Layer Dip – Like the previous appetizers, a dip is also another necessary Superbowl party food. This dip is really rich with various ingredients like sour cream, lime juice, mashed avocados, green pepper, cheese, coriander leaves etc.
4. Fajitas – Fajitas are also quite preferred as the appetizers for Superbowl party. Before cooking the meat, marinate it for overnight in freshly squeezed lime juice. Spice up with hot pepper powder, jalapeno liquid, garlic etc. Sear the meat on a pan or grill on a charcoal oven, to serve as fajitas.
5. Hummus – Soak the chickpeas in water overnight and then cook for some time to soften. Blend this to smooth paste inside the food processor. Now mix the variety of spices to enhance the taste and flavor. Finally, add extra-virgin olive oil for more authentic taste.
6. Guacamole – Guacamole is also another favorite Superbowl party food. Blend the mashed avocados with the chopped onions, cilantro, chili, salt and lemon juice. Next you can add any fruit as topping for your version of guacamole.
7. 30-minute Chili – Chili is known to be a long procedure of cooking. So, many people avoid this to cook. But, if you can cook it in an easier method, you will surely select this for your party. Use canned chili, canned tomato and cooked meat to cut short on time.
8. Grilled Sausage – Simply grill the sausage by using basic seasoning or can use a hot and spicy marinade to enhance the taste. This Superbowl party food will get finished within moments of serving, so prepare in large quantities.
9. Shrimp Skewers – Marinate the shrimps in seasonings like ginger, garlic, lime juice and lime zest for 15-20 minutes. Put the shrimps on skewers and then arrange the skewers on the broiler. When the shrimps turn pink on both sides, they are ready to serve.
10. Cheese Balls – You can consider this as the ideal Superbowl party food for your vegan guests. You can use homemade cheese for best result or can use tofu. Blend this with seasoning, herbs and spices. Make small balls out of the blending and roll them on bread crumbs. Deep fry these balls, serve with tomato sauce.
Image Courtesy: glutenfreetoolbox.com, drvino.com, westawaysausages.com
Top 10 Appetizers For Superbowl Party