Top 12 Desserts For Special Occasions

14 Jan 2011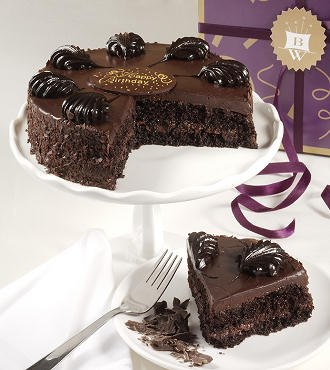 We all have our staple list of menu for parties and special occasion with all dishes and desserts tried and tested over and over again. Why not give the usual a miss in the next party you host and try something new, especially a new dessert and to help you with it, I have a list of Top 12 Desserts For Special Occasions, so that you impress your near and dear ones.
Fresh Ginger Tarte Tatin
This dessert made from fresh ginger, cinnamon, apples, nutmeg, orange zest and lime juice, is a delightful dessert option and you can also use it as an appetizers. These Tarte Tatin melt in the mouth and leave the spicy sweet flavor in the mouth. If you are really pressed for time, it is advisable to buy frozen pastry puffs off the shelf.
Roasted Pear And Cranberry Crostata
Mmmmm….this one is sure to impress your guests. It's a sheet of flaky pâte brisée rolled out into a large circle, a generous layer of frangipane (almond cream) spread in the middle, and pears (roasted with butter, sugar, and fresh ginger) and fresh cranberries placed on top. Use egg wash and sanding sugar to top it off. I am sure that this will be a hit among your guests and win you lots of appreciation.
Beat Ice Cream On Citrus Soil
Not only is the name catchy but this dish with beet as the main ingredient is a delicious way to eat beets. The other ingredients include grapefruit, orange zest and sugar. This dessert is made in two parts i.e. the Citrus soil is made separately in an oven and the beet ice cream is made separately. It is one of the most deliciously healthy desserts ever.
Cider and Doughnuts
One of the special occasion desserts idea include Cider and Doughnuts. This dessert will surely remind you and your guests of the childhood. Enjoy the thick apple cider topped with cinnamon foam alongside warm and gooey doughnuts.
Dark Chocolate Cakelets With Bacon Fat
Dark chocolates are a personal favorite and I am sure that it must be favorite of most of your guests. The recipe is as simple as making brownies but the end result is amazing. Serve with whipped cream and it will be a instant hit with all your guests.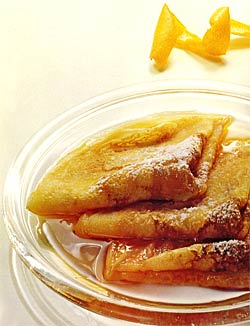 Crepes Suzette
This is a French recipe idea that contains crepes and a caramelized sugar and butter sauce as the main ingredients. It is usually made by pouring liqueur over a freshly cooked crêpe with sugar and light it.This process makes the alcohol in the liqueur evaporate, resulting in a fairly thick, and yummy caramelized sauce. To give the dessert a special occasion look, light the liqueur with a sparkle.
It is foolproof dessert recipe idea for special occasions. It is relatively easy to make and tastes wonderful.
Brownie and Banana Caramel Custard Trifle
This special occasion dessert has almost all the sweet flavors one could ask for. With bananas, brownies, caramel, custard, the dessert promises to satisfy everybody's sweet cravings. This is an elaborate dessert option and requires couple of hours at hand, and if you are pressed for time then you may buy brownies off the shelf and swap crème brulee custard with a mixture of vanilla pudding and caramel topping. Use a pre-whipped cream for the topping.
Crème Brulee Ice Cream With Pineapple Short Cake
When preparing desserts for special occasions you have to extra careful it satisfies sweet tooth of all your guests. Since Ice creams are a hot favorite with almost everyone you are sure to delight your guests with this dessert. The combination of crème brulee with ice cream is just out of the world. It is an ingenious way of capturing the taste of creme brulee. Short cake can be bought off the shelf or sweet biscuits can be used a shirt cakes as well.
Chocolate Mousse Torte
Dress up the usual chocolate mousse with this special occasion chocolate mousse torte recipe idea. The creamy chocolate taste of classic mousse gets a face lift with the dense nutty cake of a torte. The torte will be assembled in layers, once the cake and mousse have completely cooled. Make the ingredients ahead of time and refrigerate until needed. Assemble the whole thing at the serving time.
Lemon Curd S'mores
A citrus sweet dessert that is sure to win you many accolades for its unique taste. Once you have made the lemon curd you can pair it with cakes, or spoon into tart shells. This way you can have two dessert options with lemon curd.
Wonton Plum Shortcakes
This one is the simplest and the least time consuming recipe of all the dessert ideas mentioned here. It takes less than 15 minutes to make the whole thing and tastes amazing. It is a must try and is best for short notice parties.
From Chocolate mousse to beat ice cream and lemon curd, now that you have many great special occasion dessert recipe ideas, you can pick and choose any for your next party.
Image Credit: blicious.co.za, flowersfast.com
Top 12 Desserts For Special Occasions