Learn These 10 Easy Steps To Host A Great Kids' Party
10 Jan 2011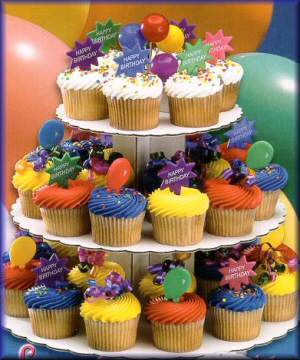 Gearing up for great kids' party, but is confused with lots of thoughts in your mind? Read this article and Learn These 10 Easy Steps To Host A Great Kids' Party. Have a Great Party!
Hosting kids' party is not a boy's game. You need to explore your weirdest imagination to think like a kid. And when it comes to food, every mother wants to make it healthy and at the same time fun.
1. Plan in advance where you want to host the party - at home or at an eatery joint. Invite only a fix number of kids that you think your are able to accommodate and serve well. Decide a time and date and send invitations accordingly. It is better to invite a week in advance to let your invitees prepare, especially if the party is theme-based.
2. Irrespective of where plan to host a great kids' party, go for a theme, which involves each invitees' participation in it. Match decorations according to party's theme. Balloons and crepe paper last long so go for inexpensive yet attractive decorations.
3. Prepare snacks like popcorns, jello jigglers and other mixes in advance and zip lock them in air-tight bags so that you can open them immediately after the party starts.
4. Offer simply, fresh and healthy foods first in an attractive and fun way. You can offer nutritive choices like fresh fruit fondue, chocolate dipped strawberries or vegetables with cream cheese based dips, salsas, cream-cheese filled celery sprinkled with goldfish crackers and raisins-topped cream-cheese filled celery.
5. Kids love to eat what they liked before so try and offer the foods, which you know all kids like. Make sandwiches of different shapes and colors that match the theme of the party.
6. Be as creative and colorful as you can because of one simple reason that kids think the most attractive goodies as the tastier ones. Allow them to decorate their own cookies and keep games and prizes for best decorated cookie.
7. Instead of cokes and other soft drinks, serve ice cream sodas, milk shakes, snow cones and smoothies. Serve the drinks in colorful cups and plastic cocktail glasses. Let kids decide what variety of fruit they want to add between the layers of ice cream while having desserts.
8. Crisp and crunchy snacks don't mean serving only unhealthy potato chips and wafers. Serve sweet cereals, peanuts, whole wheat crackers and mix crunchy snacks with raisins and other dried fruits.
9. Everyone loves surprises – so do the kids. Hide a jellybean inside a cupcake or fill taco in a hamburger. Don't forget to keep extra snacks – not all but some of them. Kids' party sometimes have uninvited participants – so be prepared.
10. Plan lots of games and activities during the party at regular intervals. Think of extra games, in case, any game takes less time than what you had planned for it. Give away inexpensive prizes as it attracts people and forces them to involve in it directly.
Image Credit: trendygirlsfashion
Learn These 10 Easy Steps To Host A Great Kids' Party