Special Traditional Menu from MALWA
14 Apr 2007
Malwa  is a region in western India occupying a plateau of volcanic origin in the western part of Madhya Pradesh state in India.This region is famous for a special dish-daal baati.
 DAL-BAATI: Baati is a hard, unleavened bread cooked in desert areas of Rajasthan, Malwa and Gujarat in North India. It is prized there for its exceptionally long life and high energy content, as well as the minimal quantity of water required in its preparation. It is always eaten with dal.They are prepared with dough of wheat flour that is a bit thick and crusted (unlike chapati). The batis can have various kinds of fillings, including onions, peas, sattu, etc.To make bati, you don't boil them. You just make balls of them and bake them either in oven or on cow-dung cakes.

Bafla and bati are always eaten with hot dal with loads of pure ghee , chatni and pickles. They are a must preparation when folks out there go out for picnic and prepare food at the spot.
                      http://www.ifood.tv/recipe/dal_batiSHRIKHAND:  Shrikhand is an Indian dessert made of strained yogurt.. The yogurt is tied and hung until all the water has drained off, the result being a thick and creamy yogurt. Dried and fresh fruit such as mango are also added. Other ingredients include sugar, cardamom powder, and saffron. Shrikhand is popular in western India.

A popular variation is Amrakhand, which is Shrikhand mixed with mango pulp.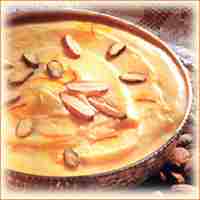 http://www.ifood.tv/recipe/shrikhand
 Add with Shrikhand, this combination makes a perfect sumptuous mouth-watering meal that one cannot forget. 
Special Traditional Menu From MALWA